Block Printed Fabric ~ 16 { Per meter }
Made / Mkt. by:

Vividh By Fabrics Of India

Product Code:

4027-BF-16

LxWxH | Weight:

100 x 115 x 0cm | 150g

About Product :

Bring art into your daily lives with these awesomely quirky blends. Soft cotton fabrics in contemporary Indian prints make perfect choice for shaping them into something you love...

Tags:

Khadi Cotton, Hand Block Printed, Fabric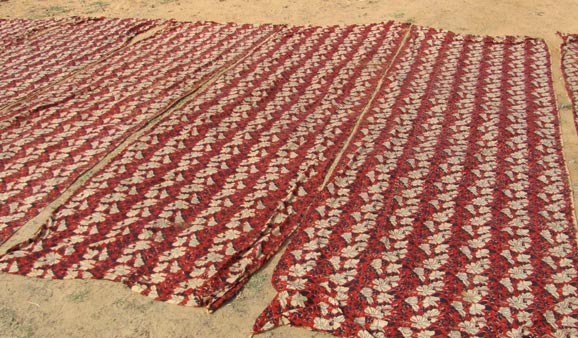 Bagru, a town at the outskirts of Jaipur(Rajasthan) is oneof the textile hubs. It is known for centuries for its natural dying, syahibegar printing, indigo dying and wooden hand block printing. Syahi begar printing is one of the traditional hand blockprint techniques where the prints are in the combination of red, black andyellow ochre or cream.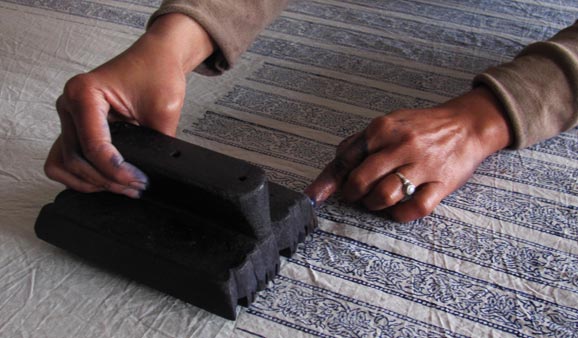 Syahi (black color) is made by keeping the mixture ofhorse shoe iron, water and jaggery in an earthen pot for around 15-20 days insummers whereas; in winters, it takes around 6 weeks to get ready. Then tamarindseed powder is mixed to this mixture and boiled. Begar (red color) is made by mixing Alum (fitkari), Madder(lal mitti) and juice of baboool gond.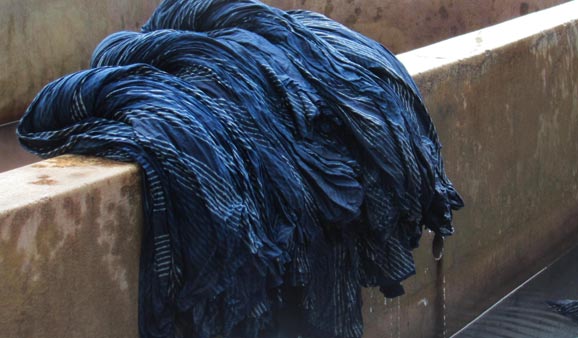 The process of Syahi Begar involves pre-washing and soakingthe fabric in fresh water and turcoil oil for 24 hours. It is done to remove allstarch, dust or any other contaminants. Next the fabric is beaten to remove leftover dust. The fabric is then dyed in the Harda (merubelum powder) solution. Itallows the natural dyes to adhere to the fabric and become colorfast. Thetypical yellow dye or color is obtained from the Harda fruit which is againyellow in color.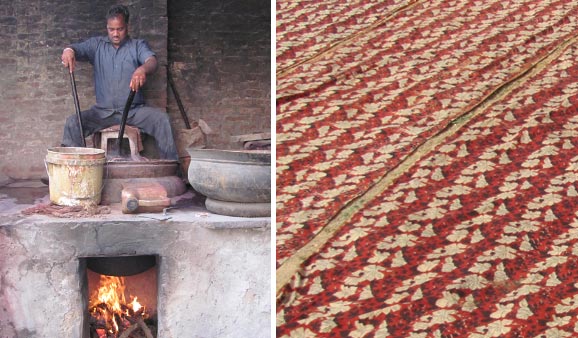 The dyed fabric is then spread on long padded printingtables. There are three different blocks used to make the prints. First blockthat is a Gadh block,it is used for the background, next the Rehk block for fineoutlines and finally the Datta block for inside filling. There can be more thanone Datta block to fill in different colors. This process of printing isrepeated over and over again.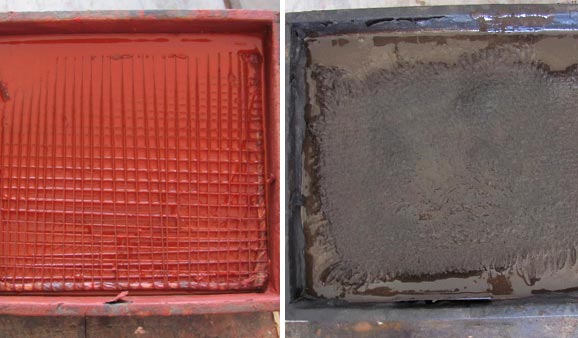 At last, the fabric is left to dry after completion ofprinting. Then it is washed 3-4 times in fresh water. The fabric is then boiledfor around 5 hours in a large copper pot (bhatti). The pot consists of a mixof natural ingredients like alizerine( aal ki lakdi) and sakura flower (dawariaka fool). After boiling, the fabric is once again dipped in Harda to remove theexcess alum (fitkari). The block printed fabric is then roll-pressed and is ready.
Craftsmen
Made by
Craftsmen working with Fabrics of India
Returns and Exchange
Note
♦ The items in this category are non-refundable & non-returnable. ♦ The product is only eligible for a refund or exchange in the case of damage or defect. ♦The products in this category is handmade.
Material
Made of
Cotton
Instruction
Note
♦ Hand printed so the color may wash off in first few washes. ♦ These might slightly differ from as seen on digital screen.