Varnam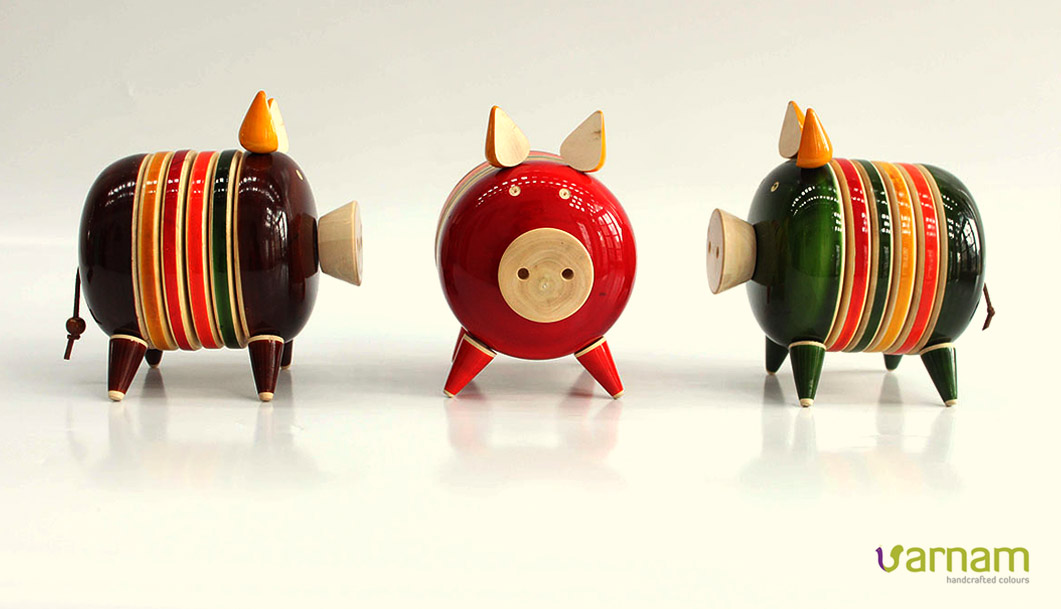 Varnam's Craft Philosophy - VARNAM (colours) is an ode to colourful India. My attempt has been to bring my own aesthetic sensibilities and design philosophy to traditional crafts. The idea is to reorient our crafts to the modern context by ensuring that each design has a utilitarian value and thereby relevant today. There is a constant dialogue with my artisans on current market trends in terms of finish, utilitarian value, attention to detail, etc. In doing so, I hope to enhance the sense of pride amongst our master crafts-people for their skill and ensure that these crafts continue to thrive.
The Lac-turnery Craft - This craft involves several independent steps. The soft wood of the hale tree (Wrightia tinctoria) or Aale mara is first turned into circular shapes by the dexterous use of hand, power lathes and suitable cutting tools. The turned wooden items are then lacquered by means of frictional heat. Painted lac deposits itself on the turned wood and gives it a bright and colourful appearance. To finish the process, the lacquered piece is buffed with the leaves of the talegiri (Pandanus odoratissimus) that gives it that glossy finish.

Lac-turnery is a 100% eco-friendly craft. The wood used is locally grown and is known to have several medicinal qualities. The lac used is a natural resin secreted by a microscopic tiny insect, popularly known as 'Laccifer Lacca'. The colours used are natural. Even the waste wood is reused in the craft and the saw dust is used in the incense industry.

About VARNAM –
Varnam is a multi-award winning social enterprise that has been working with artisans in Channapatna for over 2 years. The result is a series of designs interpreting this 200 year old toy-making craft in the home & lifestyle space and now even the women's accessories space. Varnam's product line includes lighting, Kitchen, dining & bar accessories , kids room décor/toys and Jewelry. In an industry where more

than 90% of the artisans are men, most of Varnam's creations have been deftly hand-crafted by women artisans. Varnam has been providing sustainable livelihoods on a consistent basis to artisan groups. Proceeds from sales of varnam are also invested in training women artisans who wish to learn this craft.
THE FOUNDER –
Karthik Vaidyanathan, hails from the Chettinad region of South India. Born and brought up in Mumbai he currently resides in Bangalore. An Engineer-MBA by qualification, Karthik has worked for over 15 years in the media industry - music, radio and cable television. This includes companies like Sony Music, Worldspace Satellite Radio & Radio City among others.

Varnam was born in late 2011 during a trip to Mysore enroute Channapatna. The colourful toys of Channapatna left him fascinated and created an urge to know more about the craft. Being in a full-time job, he would travel to Channapatna over weekends and holidays. A few visits later, the first few designs of Varnam saw the light of day. Varnam has, thankfully, not looked back since.

AWARDS –

~ Winner of two Blue Elephants at Kyoorius-D&AD Design awards 2013 in two categories – packaging & design craft
~ Winner of CII-NID Design Excellence Award 2013 – 'Industrial design-home products' category for the 'Oinkston tableware' series
~ Winner of CII-NID Design Excellence Award 2014 – 'Visual communication' overall category award and 'Packaging Design' Award.
Showing 1 to 50 of 50 (1 Pages)