KAAM BOLE by Hariyaben Uttam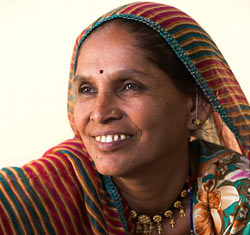 Hariyaben was born in Thar Patiya, Pakistan She was 8 when her family came to India. They were in a refugee camp in Bakasar Rajasthan 7 years. Then she got married and came to Jura camp. She was there 2 years and then came to Sumrasar.
Hariyaben was not educated. There was no school in Bakasar. She learned stitching from her mother- suf and kharek embroidery, appliqué, and sewing. She sold herown things for nothing to guides because she didn't know the value. "I feel bad about it," she says."It was old, real
traditional work, with kala and gati. If we had it now, we could go from there."
In Sumrasar, Hariyaben did commercial embroidery for Shrujan and Gurjari. When the Dastkar Kutch Project came she joined it, and then Kala Raksha. She is one of the original Kala Raksha Trustees.
Hariyaben was the first Kala Raksha artisan to go out to an exhibition, in Chandigadh. Then she went to Delhi, Mumbai and Hyderabad, where she received the prize for best game from the Crafts Council of India. A good artisan must love the work, Hariyaben says. She must work well, and she must have new ideas. Good work has a method to it. Good design is not told by words and explanation. It speaks itself Hariyaben feels that art is identity and it is important to keep the suf identity. "When we go out it is how people know us. Today's girls know suf technique but not traditional motifs. We should teach them so they know." Old work wasn't fine, she says, but it was exemplary.
There were many motifs in a piece, and many colours. Hariyaben did suf work until the earthquake, after which she left it for appliqué and
patchwork. She feels the future for suf embroidery is good. The art is increasing. Artisans make new products, even for dowries.
Our art can't die, she says. We need it for home and household. But, she says, she didn't know anything about outsiders' taste. At KRV she says they learn from each other. "We can receive orders now. The main thing is that we can talk about our work. If you pay attention you can benefit."
Showing 1 to 41 of 41 (1 Pages)