शाही ✜ Handwoven Cotton Punja Dhurrie ✜ 6 { 4' X 6' }
Made / Mkt. by:

Kalavilasa

Product Code:

2032-KV-FWCR-23-2

LxWxH | Weight:

183 x 122 x 0.25cm | 2600g

About Product :

Cotton dhurries can do more than just warm up the floors of your interiors; they can be a cultural statement as well. Kalavilasa produces some amazing cotton dhurries, which are sure to help you bring color, pattern and cultural style to your home. Made of 100% pure cotton yarn, and dyed using eco-friendly azo-free dyes, this dhurrie is woven by traditional weavers on a horizontal loom. The dhurrie is vigorously washed after weaving, so that it gets a smooth and uniform texture. Lightweight yet strong, the dhurrie can be easily washed in home on a flat surface with a brush, after dipping in cold water and using a mild detergent. The dhurrie colors are guaranteed not to bleed during washing.

Tags:

Rugs, Handwoven, Home Decor, Gift, Cotton Dari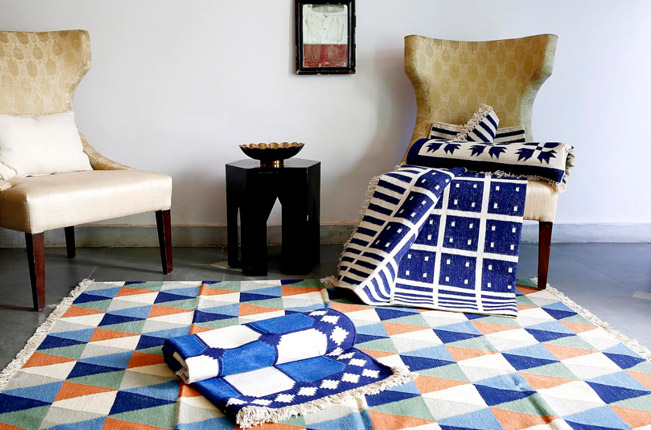 The earliest form of carpet weaving in India was recorded at around 500 BC in Buddhist texts. The evidence of use of carpets in India also comes from Mongolia and these carpets were found to be very similar to the present day Persian or Anatolian carpets. The Venetian traveler, Marco Polo, too has written about the popularity and widespread use of flooring in many parts of India in his chronicles.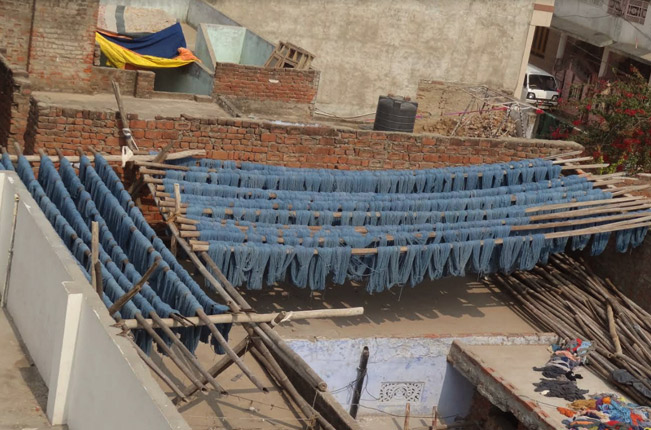 It is believed to be a time-tested and long-used method of flooring in India. The Durrie is a small carpet woven by women in rural areas on two parallel bars of looms. This carpet is found to be commonly used in Indian villages.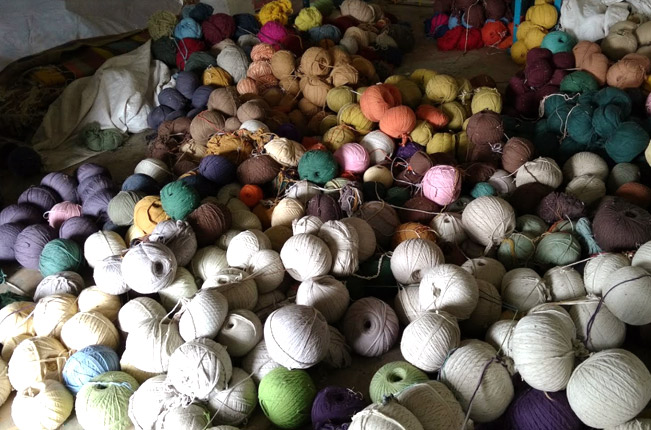 The hand made carpets of Rajasthan & UP also reflect Persian influence and the cotton durries have the most beautiful geographical motifs and pastel shades. The wool dhurries are based on contemporary designs, which are geometric, floral or a play of colours which are close tonal variations of a shade.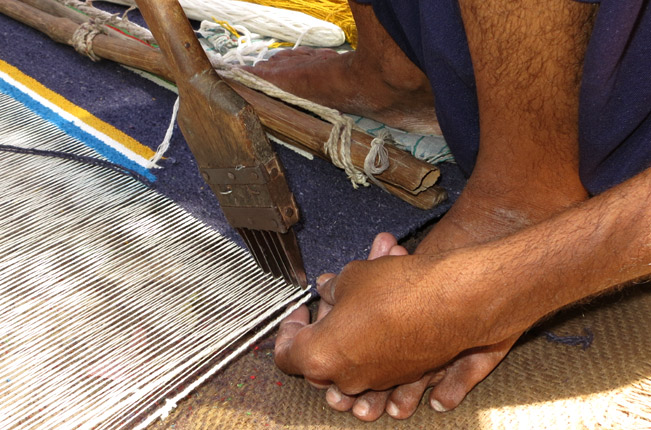 The weaving technique produces weft-faced design in a dhurrie, in which the warp is made of cotton yarn, and the weft is made of wool yarn. The tensile strength of cotton yarn in the warp, provides a strong foundation to the rug. A claw-like device, called Punja, is used by the weavers to densely pack the weft yarn to almost hide the warp. The weaving technique used in producing wool Punja dhurries is called weft-faced plain weave or tapestry weave. This technique results in identical design on both the sides of the dhurrie.The wool yarn used in the weft is dyed before the start of the weaving on the loom. The weavers use horizontal pit looms as well as vertical looms to weave the dhurries. After the dhurrie is woven and taken off the loom, the excess fibre is sheared. Finally, the dhurrie is singed and then washed, before it is stretched to perfect its rectangular shape.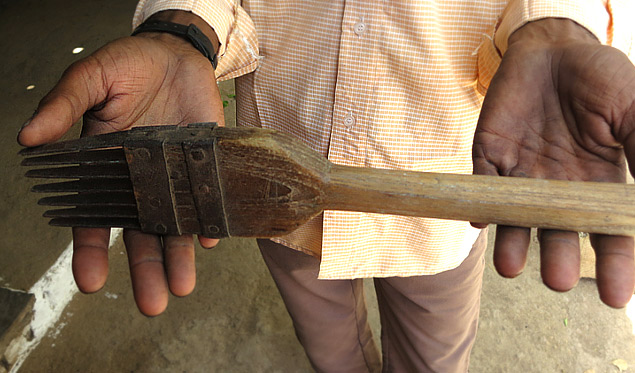 Hand woven carpets are a rather broad category that includes hand knotted carpets as well as flat weave carpets. The quality of the hand woven carpets can be judged by the tightness of the weave and the density of the knots. Tight weaves and dense knotting ensures durability and neatness in patterns.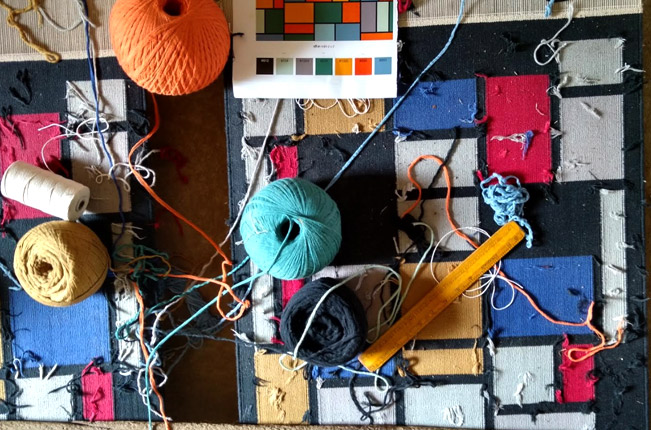 These carpets consist of warp and weft interlacing at right angles, in which additional short length yarn are tied row by row as weaving proceeds. Interweaving the warp and weft produce a flat surface, generally reversible. These durries are woven with cotton, jute and wool threads.. durries can be purely decorative or can function as prayer rugs or floor/wall coverings in houses.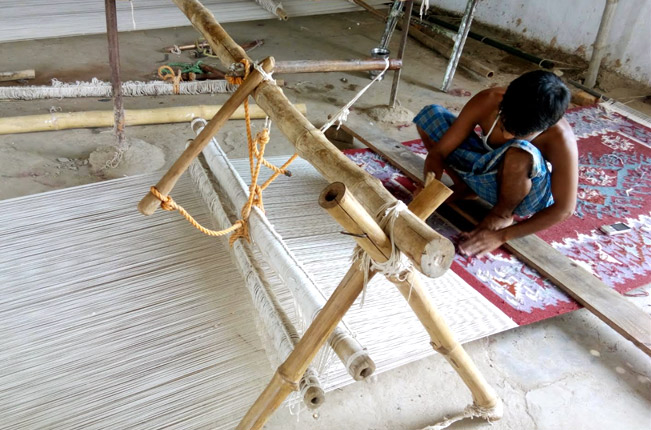 Carpet weaving is skill and labor intensive. Meticulous work and dexterity combined with immense patience is shown by the craftsmen. The larger and intricate the design, the more time it consumes to reel out a carpet of high quality. In spite of this, there is very little value for their labor and the returns are also minimal.
Craftsmen
Made by
Artisans Working With Kalavilasa
City
Sidhi, Madhya Pradesh
Material
Made of
Cotton
Instruction
About Sizes
4 ft X 6 ft
Care
-Vaccum regularly to remove dust. -Avoid direct and continuous exposure to sunlight. -Avoid pulling loose ends of yarn. Instead, clip gently with scissors. -Wash in cold water, using a mild detergent. -Do not wash in the washing machine.
Restrictions
COD - Option
Not Available