Eeksaurus Backyard ❃ Shanks ❃ 45
Made / Mkt. by:

Eeksaurus Backyard

Product Code:

2504-KP-45

LxWxH | Weight:

25 x 8.5 x 8cm | 850g

About Product :

Meet these Badass vehicles straight out of Eeksaurus Backyard.. each carrying a quirky story within... joined & fixed through surreal creativity.. give them a little space at your home..& be ready to blow away minds by their freaky styles... grilling conversations guaranteed!

Tags:

Up cycled, Eeksaurus, Gift, Designer, Decorative
During one of our projects, we were required to create interesting designs using everyday materials and textures. It started innocently enough with dragonflies and butterflies but the more we explored, the more fantastic and creative our designs became. As a result of which, more material was sought to up-cycle - nuts, bolts, mobile keyboards, print cartridge, cycle chains, blades, gears and what nots. The weirder the better.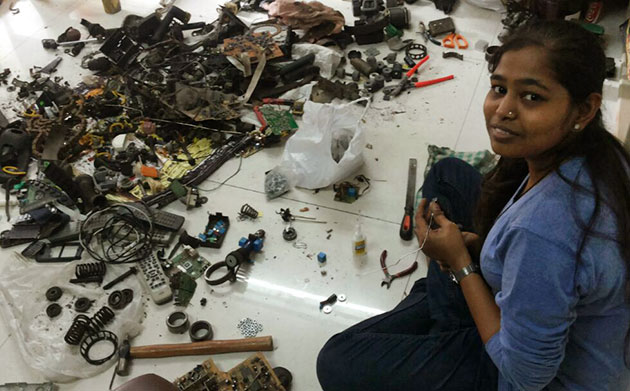 After the project got over, we were neck deep in scrap. We had a a feeling that this was just a beginning of a whole new story. We had loved playing around these rather quaint materials- joining, fixing, figuring and we continued to do so. Soon enough, we had an inventory of finished pieces by our gifted team of artists and designers who reside in a place in the office now called "the BACKYARD"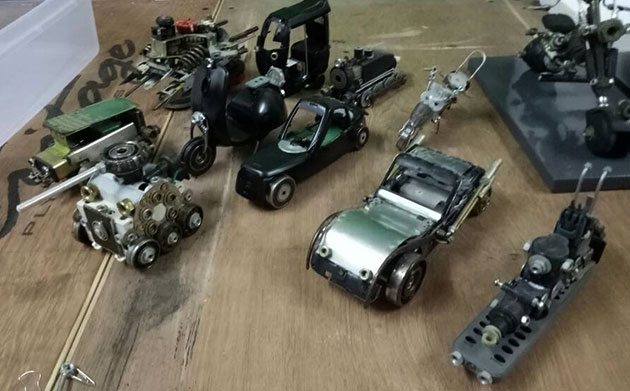 No one product/ piece is similar to the other, each piece has been handcrafted by talented individuals who chose their own materials and used them uniquely. There is only one of each in the whole world.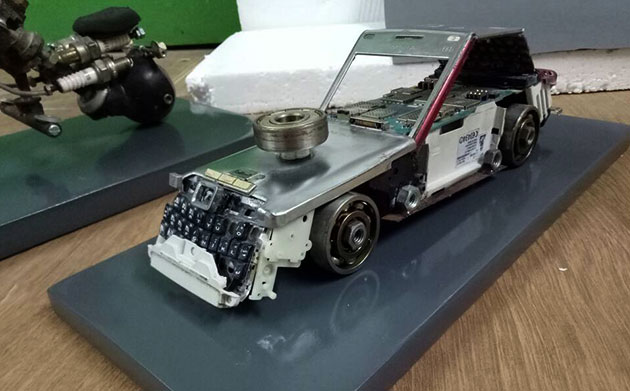 Craftsmen
Made by
Eeksaurus Backyard ( Sanjay Patkar, Shailesh Chindarkar, Ramesh Jadhav, Ajinkya Udmale, Charulata Bendale )
Material
Made of
Ram, electronic chips and mobile part used as body, barrings used as wheels and nuts used as headlights.
Instruction
Note
♦ As each piece is hand crafted and unique, expect some variation from shown design. ♦ The items in this category are non-refundable & non-returnable. ♦ The product is only eligible for a refund or exchange in the case of damage or defect.
Care
Raw & rustic scrap metal pieces have been artfully compiled to make these decorative toys. Solely for display purposes not advisable to be given to little children for play.