ABOUT
Every year these threads take us through the nostalgic road of our childhood.. from unconditional love to non-stop fights.. those evil pranks & uncontrollable laughs.. this bittersweet relationship gets stronger with each passing day... A promise of love wrapped under these colorful handmade Rakhis... celebration that stays with you forever...
Availability: Sold Out
Product Code: 1808-SRKHI-09
Made/ Mkt. By: Srijan ~ Pushplata
L.W.H | Wgt:0.5 x 0.5 x 32cm | 100g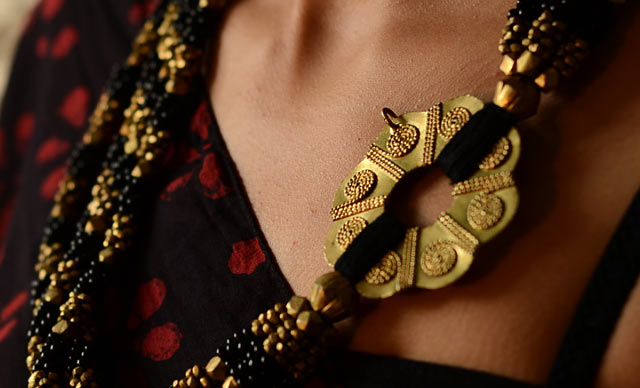 The original inhabitants of the land, their imagination uninfluenced by any norms, they depend on nature for any inspiration. They carry forward a legacy of rich and distinct cultural traits and display a fascinating profile of ethnic diversity.
The art of dressing up, decorating their bodies and hairs is something both men and women of Orissa cherish indulging in. Women use different types of hair pins and wear ear rings, nose rings and finger rings made with coins. They wear bangles made of brass. Some of the commonly used ornaments are Hair clip (Khosa Dang), Nose ring (Dandi), Black Necklace (Taitul), Red Necklace (Bandara), Long Necklace made with Ghunguru (Bid/Gagara) etc.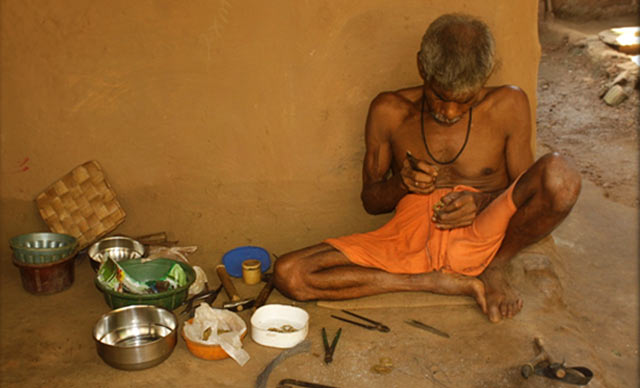 Apart from other metals brass is a favorite among tribes, they make different type of pattern and brads using Dhokra, which is non–ferrous metal casting using the lost-wax casting technique. The bell metal or Dhokra technique is one of the earliest known methods of metal casting. The craft dates back to pre-historic times of Mohenjo-Daro and Harappa civilizations. Dhokra/Bell metal is an alloy of nickel, brass and zinc that lends an antique appeal to casting. One of the earliest known lost wax artifacts is the dancing girl of Mohenjo-Daro.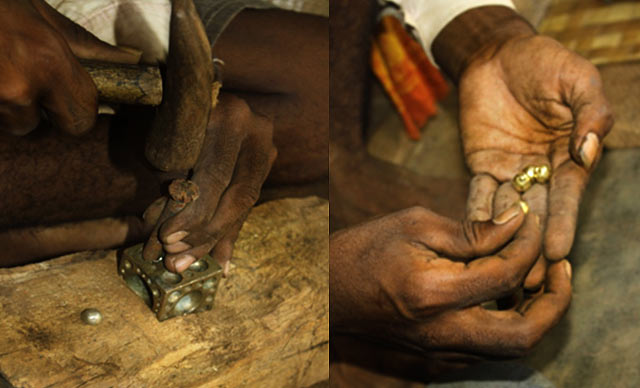 The 'Dhokra Damar' are the traditional metal smiths of West Bengal and the tribe extends to Jharkhand and Orissa as well. Their technique of lost wax casting is named after their tribe, hence Dhokra metal casting. A few hundred years ago the Dhokras of Central and Eastern India traveled south as far as Kerala and north as far as Rajasthan and hence are now found all over India.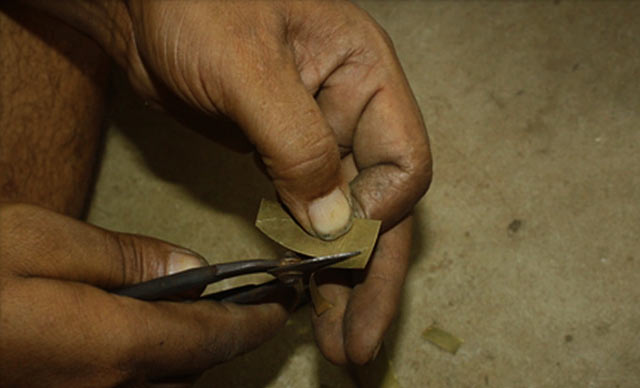 With time, the available raw material changed in its form. Earlier every small and larger part was cast separately and then worked further upon, now the metal is available in the form of wires of different diameters and sheets. Odiya names of the beads according to their sizes are Kanthi, sorisia and khuda sorisia. The process can be divided into three main parts; first they make basic shapes cut out from sheets or by metal casting. Then the two metal pieces are stuck together with the help of heat. All such individual pieces are strung together in cotton or silk braided strings to complete the piece.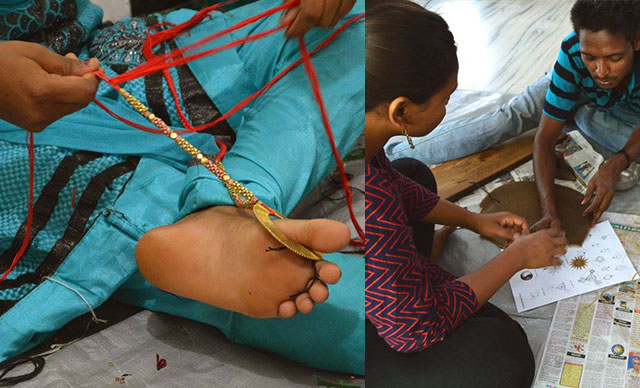 Design Intervention workshops in Bhubanseshwar with focus on bringing about new design ideas in Dokhra and metal beads are being conducted by organizations like Zola. Seven women artisans from a village called Karimul in Orissa worked with brass, copper, white metal, Dokhra motifs, Langia Soura tribal art, Kutia and Koya combs of the Kutia Kondh and Koya tribe respectively to make this collection of Jewelry.
| | |
| --- | --- |
| Craftsmen | |
| Made by | Artisans working with Srijan |
| Returns and Exchange | |
| Note | The products in this category are non refundable. Refund is only applicable in case of defect or damage. |
| Material | |
| Made of | Brass |
| Instruction | |
| Note | The products in this category is handmade. These might slightly differ from as seen on digital screen. |
---