ABOUT
Finest of silk prospers with a bold show ..speaks of an aesthetic appeal like no other when classic colors are hand printed in refreshing patterns.. presenting to you a great finesse ideal for your every occasion..
Availability: 1
Product Code: 0802-WS_G_S010
Made/ Mkt. By: Weavers Studio
L.W.H | Wgt:630 x 110 x 0cm | 450g
Embracing ethical values while transforming traditional crafts into wearable outfits, drapes and textiles, Weavers Studio stands strong with its ethos "to use as many hands as possible". Our mission is to revive traditional crafts and textile arts of weaving while supporting and empowering communities in rural India. With the commitment to reduce carbon footprint of the world of textiles, we ensure the fabrics are crafted in an ecologically favorable manner using traditional techniques.
Weavers Studio excels at designing and creating a luxurious hand-woven range of products with love and integrity, using natural dyes and weaving on traditional looms. Our USP lies in hand block printing, resist dyeing techniques and hand embroideries on wooden frames as well as local hand embroideries like kantha. Various craft techniques used by them are: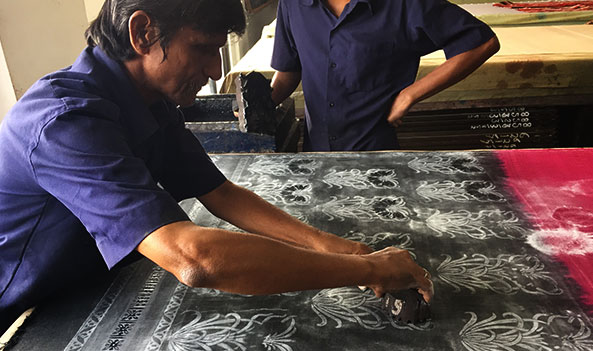 CLAMPING:
Clamping is a technique of resist dyeing. Resists are used to prevent the dye from reaching the fabric. Clamps are made from rigid materials such as coins, wooden blocks, fabric clips etc.
In the process that we follow wooden blocks of different shapes and sizes are to form patterns on the fabric while clamping. In order to obtain a particular design the fabric is folded in a certain way and it is then clamped with a wooden template (the design)followed by dyeing. This technique is followed for obtaining a single color. To obtain two colors, the fabric is first dyed in a light color and then clamped. The fabric is then dyed in a deeper shade.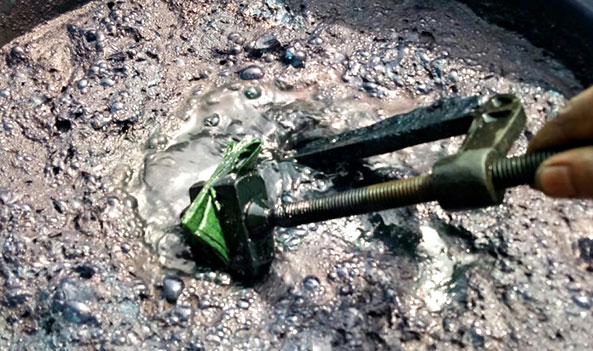 SHIBORI:
Shibori is a Japanese term for several methods of dyeing cloth by using resist, one of which is stitch resist. A simple running stitch used on the cloth then pulled tight to gather the cloth. The thread must be pulled very tight to work, and a wooden dowel must often be used to pull it tight enough. Each thread is secured by knotting before being dyed.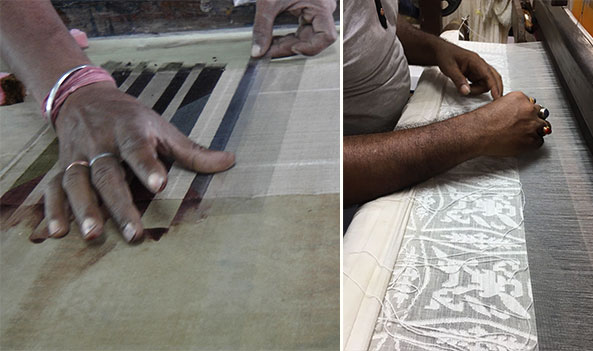 KANTHA:
Kantha, a popular style of embroidery that comes from West Bengal, is a significant symbol that displays the skill and talent of the rural women in Bengal. Traditionally this embroidery was used for quilts, dhotis and sarees, but over a period of time it has evolved and made its way right into the heart of Indian fashion. The yarn is taken from old saree borders; the design is then traced and finally covered `with running stitches. Today this kind of embroidery can be found on shawls, pillow covers, dupattas and home furnishings as well.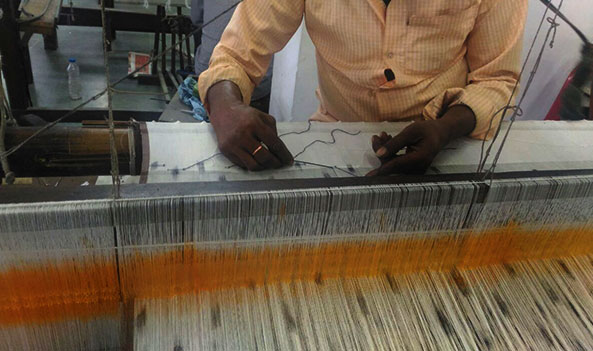 TANKA:
Tanka is running stitches along the length or width of fabric but bigger in size as compared to kantha and also with increase in gaping comparatively.
NATURAL DYE:

Natural dyes are dyes or colorants derived from plants, invertebrates, or minerals. The majority of natural dyes are vegetable dyes from plant sources—roots, berries, bark, leaves, and wood—and other biological sources such as fungi and lichens.
Some of the ingredients used :
| | |
| --- | --- |
| Craftsmen | |
| Made by | Craftsmen working with Weavers Studio |
| Returns and Exchange | |
| Note | Refer to Refunds, Returns and exchange section under this link : http://shop.gaatha.com/delivery |
| Material | |
| Made of | Tussar Silk / With Blouse Piece |
| Instruction | |
| Note | ♦ 10-15 working days from the date of confirmed order. ♦ Imperfections and variations in the product cannot be termed as defects, as these are intrinsic to the handmade process. ♦ These might slightly differ from as seen on digital screen. |
| Restrictions | |
| COD - Option | Not available |
---