ABOUT
Contribute positively to our planet. Choose up-cycled Rugs and Durries Hand-woven using leftover cotton strips. Finish off your interiors with a stylish floor piece that will bring extra focus to your decor. Spruce the living rooms with our Up cycled Durries, adding colours to your personal space.
Availability: Sold Out
Product Code: 2023-DU1
Made/ Mkt. By: Kasturi
L.W.H | Wgt:185 x 106 x 0cm | 1.2kg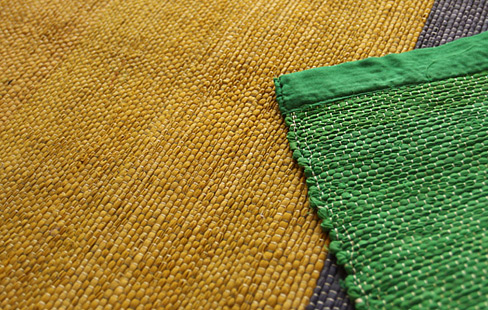 As Indians, we find a way.. A way in things, around things, between things, over things all around us. We see no dead ends. Thus, it comes as no surprise that recycling is in our very culture. From waste plastic bottles to worn out articles of clothing, we have explored our ways of recycling on several fronts. At one level, therefore, we're out to create a culture that is self-sustained with the hope of leaving enough for the generations that are to come after us and to start cycles of self-sustenance.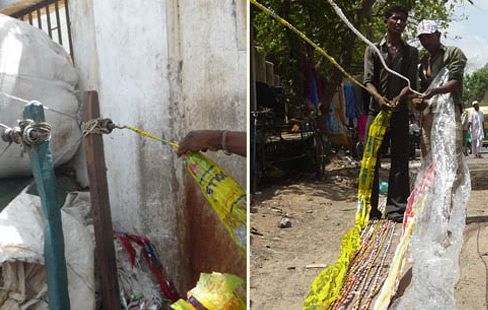 On some roads of Ahmedabad, one can see rope makers busy rotating what looks like a giant "Charkha" (spinning wheel), spinning out shiny strands glittering in the sunlight. There are ropes being made out of scrap industrial plastic, and sometimes fabric, which would otherwise be sent to garbage dumps, polluting the soil and rivers. They purchase the plastic from nearby industries of the city and turn that waste into something useful. These ropes are sold in high demand at the city market as they are supposed to be stronger than nylon ropes, since they don't wear much in the weather.
These craftsmen have been making ropes for 40 years now, recycling plastic since much before the buzz of sustainability and climate change even started. Making plastic plied ropes by hand with a large charkha, walking up and down the roadside twisting the strands, in the city of Gandhi's Ashram, they are carrying on his philosophies of hand work and self sustenance.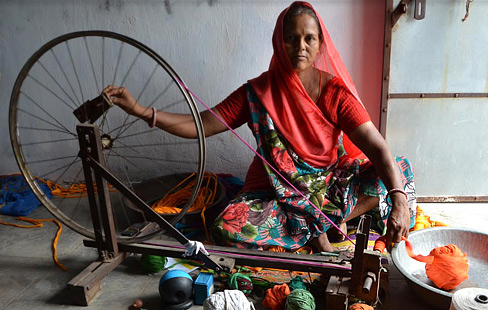 While, In the region of Surendranagar there are several groups of Weaver communities which organizations Manthan and Kasturi have been associated with. Since the cotton cultivation and ginning industry is the main source of income in Surendranagar district, textiles has grown as a business in the district.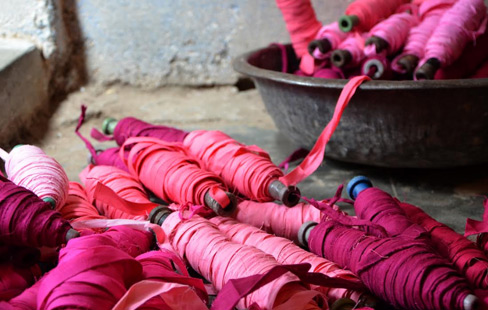 In the villages of Saurastra, there are several weaver communities who have been involved in weaving activities like Patola weaving, shawl weaving etc. They have been involved in making durries from waste sarees and cotton salvages. Mainly these durries were used in homes for personal use. But since the past few years, durries have evolved as a good source of income for the craftspeople.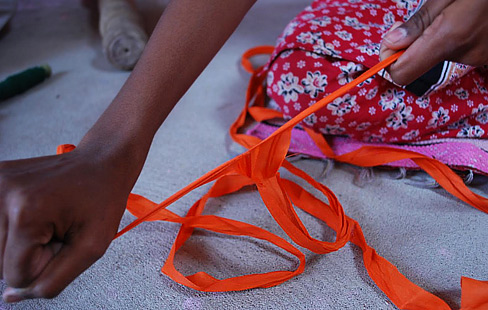 First, fabric is finely shredded into long pieces of cloth. Then, these pieces are put on a charkha and twisted to reduce their width. Finally, they serve as weft threads on a handloom being woven to produce these beautiful durries.
| | |
| --- | --- |
| Craftsmen | |
| Made by | Artisan working with Kasturi |
| Material | |
| Made of | 100% Cotton |
---