ABOUT
Few words spoken... Few lines drawn... Few colors filled... sometimes bring more joy & make more sense than much would do... simplicity of forms speaks effortlessly... Of a language unhindered...Patterns in these drapes flow with ease like the contours of a distant landscape... Carry yourself at ease in this piece of art.. because here... less is more..!
Availability: Sold Out
Product Code: 4031-SLK20-10
Made/ Mkt. By: Kalava Crafts
Box- L.W.H | Wgt:512 x 108 x 0cm | 400g
नखराली | Nakharali ✼ Cotton Laheriya Saree with Applique | 10
Gathering commences in the middle of deserted pavilions where velvet carpets adorn the Dessert lands & Manganiyars play folk music as a bugle for the occasions to begin. Royals from every corner are called upon to decorate the occasion. It's a sight to behold, men & women welcoming the Kings by dancing their hearts out. Escorted by troops of horses and elephants decorated with finest imagery, jewels, textiles and armors, they are being showered with colorful flowers pouring over the gathering. Kings grace the occasion in finest Angrakhas & their blazing jewel studded headgear's. One after another, kings enter the Durbar & the whole place lights up with their shimmering attires. Amidst such pomp and show a man with a King's composure and firmness walks in... not bedecked in jewels like the rest.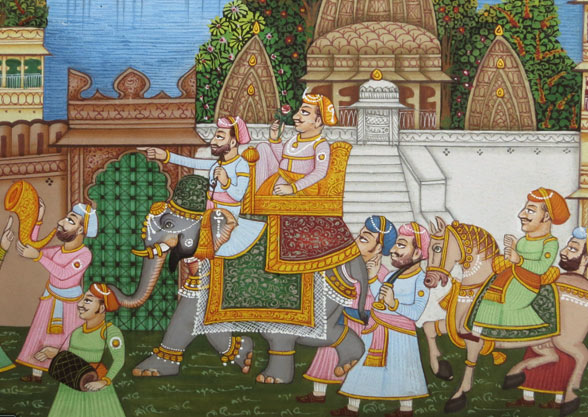 He stands out like a white crane in the shimmering background of the afternoon river... and his headgear, a perfect pink shines brighter than all jewel put together. This King of Jaipur was something... of a fresh wave, that irresistibly passed through each and every one present in the gathering.... and the waves did indeed adorn his impeccably bright fedora... it's tail waving with the wind, light as feather. Jaws dropped, eyes hypnotized, heads turning in the direction of his waving tail as he walked past. Carrying waves of the oceans on his head, making sand dunes dance to his tunes; he walked the sea to the deserted lands of Rajasthan. On the spur of the moment whispers about the never seen before headpiece started echoing from every corner.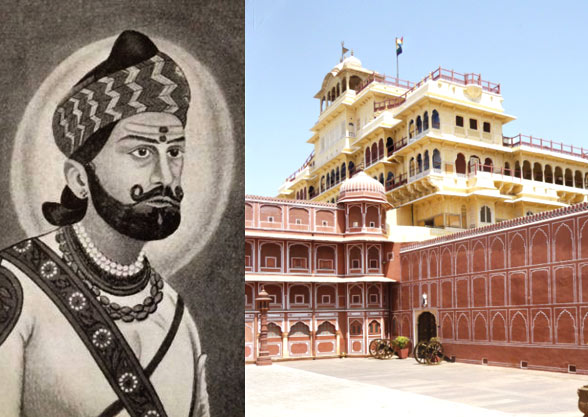 "Every king tells a tale from their region!" said one, more out of a collective inquisitiveness to know about the King of Jaipur than to know about anyone else. Soon the Durbar was filled with stories of amazement, with each sharing a bit of his own. An anticipatory audience turned to the king of Jaipur as he began speaking. Seeing the much excited crowd all ears to his narrations the King introduced his province… A city where colors are deep rooted in the culture and so the city itself is known after one of the most vibrant colors ever, as The Pink City. Their love for the color being so profound that they even decided to reside in houses drenched in a hue of Pink… "And Oh! How it merges with the gradient of the sky of the setting sun, the skyline of Jaipur!" & so does his headgear, thought everyone. "People of such a city must have the most colorful mindsets" said one,"…painting their imagination in colors flowing through their lanes… and veins."  Every corner of the city speaks a different story… You often see men sporting colorful headgears & this royal tradition have been followed whole heartedly. Making Pagdis has become a prominent craft and is an integral part of the rich heritage & an identity for many communities. The Kevat community wears only red Bandhani turban at all occasions. Jat community in Narwa village wears a bright yellow turban.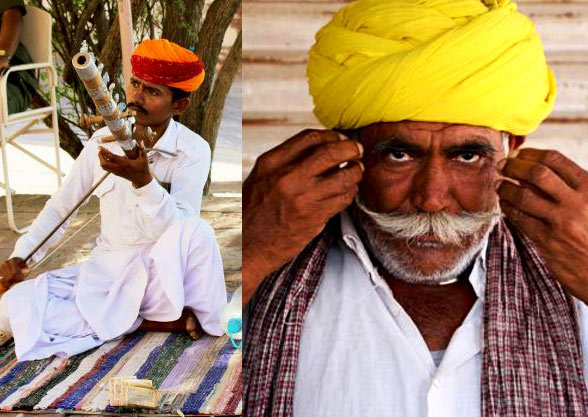 Pappu Ram Bhil belongs to Bhil community. He wears a Marwadi gol paghdi & sings Pabuji ka Pad.They are found in various sizes and shapes and are influenced by many factors. To protect themselves from heat of the blazing sun and harsh climate, turbans are also used as pillows by men while travelling and can be used as ropes to draw water from a well. Apart from these practical uses that a turbanis availed for, it is also a symbol of honor for the men of Rajasthan.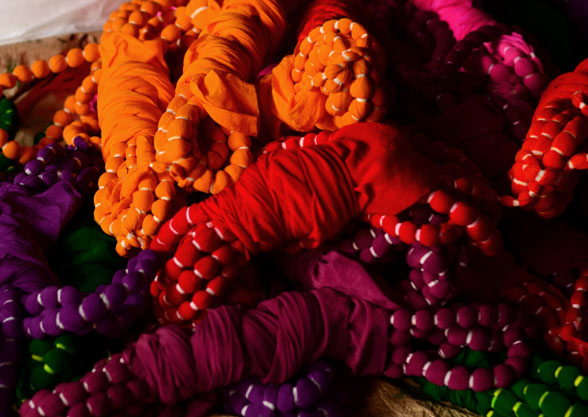 Colors have a deep meaning in our culture & give a beautiful insight about the lifestyle of the people of Rajasthan. Every possible effort is made to counter the bareness of the deserts, by pouring colors all around. Leheriya is one craft which is believed to provide hope to the people of a state as dry as Rajasthan … the hope that a 'Leher' or a wave of water brings along… And they have been communicating this hope to each other through this craft- the women through their colorful Leheriya dupattas, saris and the men through their Paghdis and Safas. They celebrate and welcome the monsoon through their dresses; the Leheriya dancing in exaltation. In this season, women majorly wear the Samudra Leheriya, which has the colors of the sea.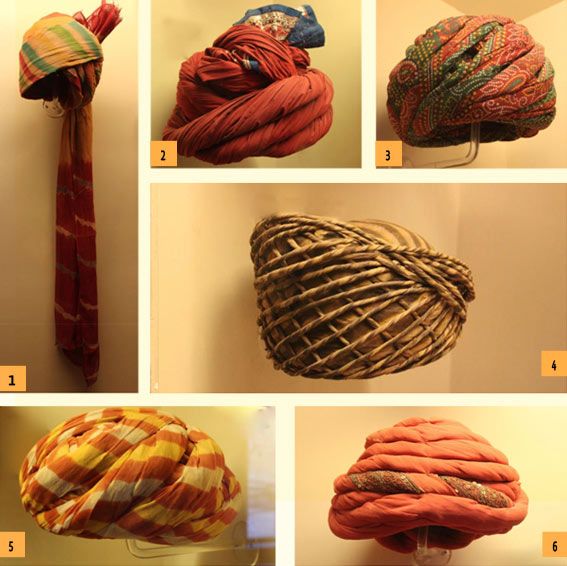 1. Jodhpuri safa, 2. Rabari, Bridegroom safa; Barmer, 3. Bhaat safa, Bhaat community,Barmer, 4. Samode pagh, worn during monsoon,5. Gol safa, worn by many communities around Jodhpur, 6. Dharangdhra safa,Pink chiffon Royal turban of Gujarat.[/caption] Leheriya has basically comes from the word 'leher', meaning waves. It is a tie-dye technique resulting in diagonal stripes on fabric, which look like waves. It is a water-centric craft as ample of water is used in its making. Leheriya making is an elaborated process that starts with gathering tools required for the process.  It needs a Khilli to tie the knots. It is very useful because it helps in tying knots very quickly.  Wet threads, usually of cotton, polyester, nylon, silk, jute and aluminum wires to tie the fabric are needed. Mudda, a small wooden stool with a pole at the end of that stool to tie the rolled fabric, while the other is kept lose. Undi, a large copper vessel to wash the fabric and also used for dyeing the fabric. A dryer machine also known as Hydro Extract is used to remove excess water from the dyed fabric & finally a Khoonti – to twist the fabric for removing excess water.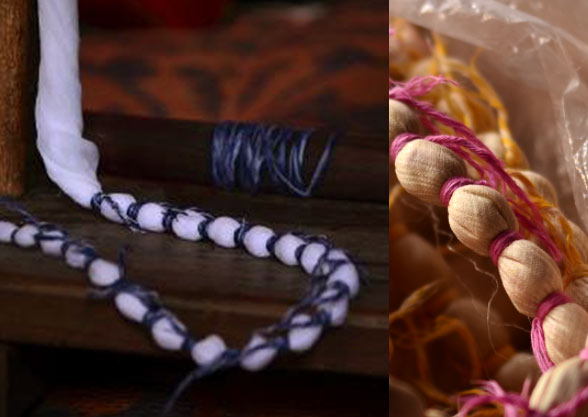 The fabric is washed to remove the starch and other impurities. Before tying the cloth, it should be ensured that the cloth is moderately moist. "Kapda geela hone se bandhte samay theek se khench aati hai," (the thread can be tied tightly on the cloth and it maintains a firm grip on it if the fabric is moist). Also, before tying, the cloth must be folded and rolled according to the desirable pattern one wants to achieve. One end of this rolled fabric is tied to khoota. Pulling the other end, cotton thread must be rolled around the fabric anti-clockwise three to four times and cut, at regular intervals. This process is repeated through the entire length of the rolled fabric. After the tying, the fabric is dyed in the desired color in Undi, the dye powder is mixed with water. The tied cloth is then put into this mixture and dyed manually by a continuous circular movement of the hands holding the fabric. This is done for about one and a half hours, till the color seeps deep into the cloth. If more than one colour is desired on the cloth, the first colour needs to be discharged; the fabric needs to be put in a mixture of water and hydro powder.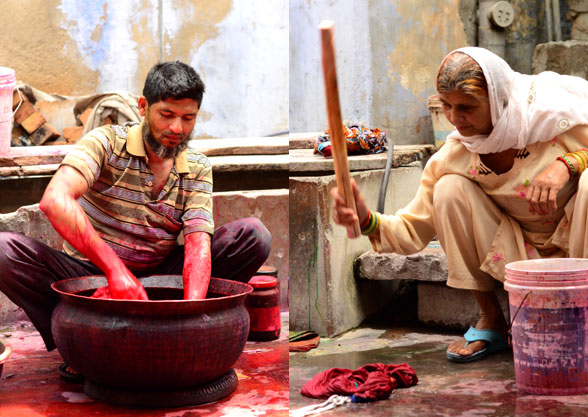 This helps in re-dyeing of fabric with another colour without mixing the two colours. Some dyes need to be heated before dyeing the fabric so that the colour seeps well into the fabric. A chulha is used for heating. Also, to fix these dyes permanently on the fabric, the dyed fabrics are boiled in the dye and salt. After dyeing, the fabric is twisted and beaten continuously on a low stone platform.The fabric loosens a little due to beating which allows the dye to penetrate deep into it. Then, the tied fabric is again dyed and again beaten till it takes on the colour completely and evenly. The fabric is then twisted tightly with the help of Khoonti to remove excess dye and water. These tied and dyed fabrics are now hung out in the sun and left to dry. After the fabric dries, one end of it is rolled in the toe to untie the fabric. This is done by pulling the loose ends of the knots. Thus, a Leheriya is created.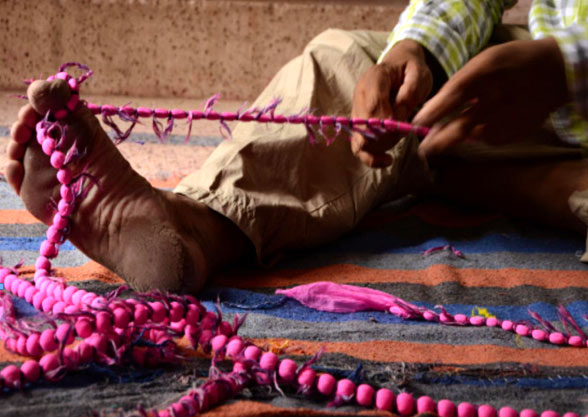 Leheriya making has evolved over time to achieve any desired patter & there is a major difference between the aesthetics and techniques of Leheriya in the late 20th century and early 21st century. Rajashahi Leheriya: Also known as Pratapshahi or Salaidar. It is the most commonly found pattern of leheriya, which has a diagonal wave like pattern. Mothara: Mothara leheriya is made by repeating the process for pratapshahi (diagonal) leheriya twice such that they intersect each other and form small diamond like shapes known as 'patanga'.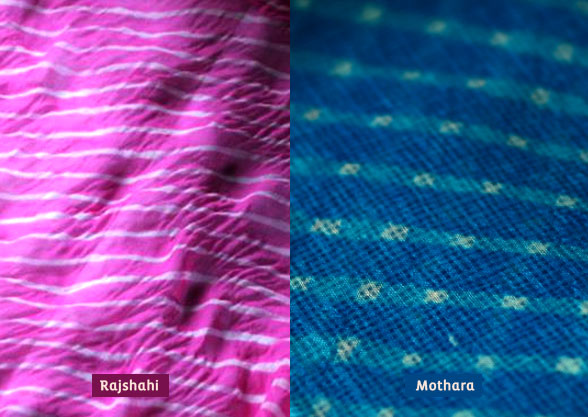 Nageena Mothara: Nageena is the hindi term for gems. This pattern is known as 'Nageena Mothara' since small gem like squares are formed at equal distances. Katva Patta Leheriya: In this leheriya, the fabric is dyed twice. After it is first dyed, the colour is discharged using acid and then it is redyed with another colour. Also, because they create bands at equal distances, which are known as pattas in Hindi, it is called katva patta leheriya.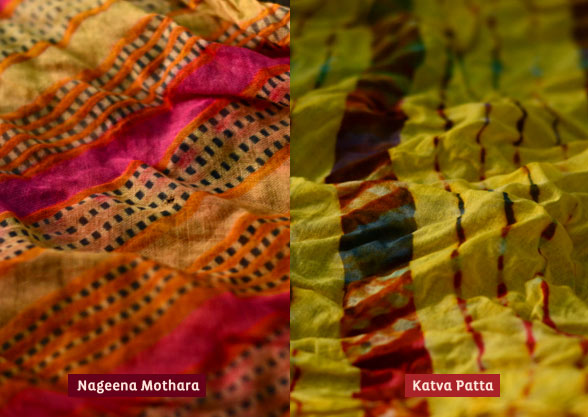 Leheriya being mostly done on breezy fabrics is one of the favorite choicesfor a woman under the scorching heat of Rajasthan & they have associated colors with every festival. For festivals likeTeej and Gangaur, women are dressed up in Samudra Rajashahi Leheriya. During SharadPoornima, they flaunt a light pink colored Leheriya, also known as Mothia.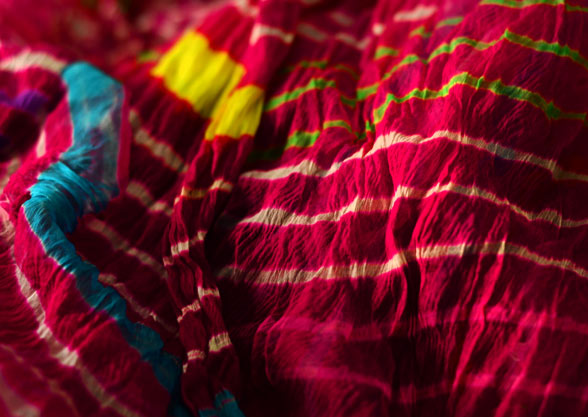 People in the Durbar are deeply listening to every word uttered by the King. "Lastly" he says "the craftsmen in my province love experimenting with old crafts by adding a new touch every time…. And I believe that innovations have to be kept alive… at any cost… It gives me immense pleasure to try out these little experiments of theirs& keep them encouraged. And also it is by means of this that I keep connected with my people as their keeper and well wisher." The outstanding King thus had won the hearts of every attendeebefore he reached the end of his Pink story… and the King of Jaipur got many patrons among the fellow Kings for his Leheriya... ~ Text & Images ( 3, 5,6,7) by  Ashmita Meghrajani,  Moksha Jain, Riya Chandiwala,  Riya Shah, Ruchi Gattani
| | |
| --- | --- |
| Craftsmen | |
| Made by | Craftsmen working with Kalava Arts & Crafts |
| Returns and Exchange | |
| Note | ♦ The items in this category are nonrefundable. ♦ The products in this category is handmade. ♦ The product is only eligible for a refund in the case of damage or defect. |
| Shipping ~ | |
| Shipping | Dispatched order in 3-4 working days. |
| Material | |
| Made of | Cotton |
| Instruction | |
| Note | As the product is handmade and every piece is unique, expect minute variation from shown design and shape. |
| Care | hand wash with soft ironing |
---