ABOUT
Impressions on the wood leave traces on your mind which last for a life time.. every stoke speaks of craftsmanship beyond compare... aesthetics pleasing you to the core... These exquisitely carved home décor objects by the artisans & traditional carpenters of Pilkuwa are truely avant garde... Here to hold your spaces in warm embrace...
Availability: Sold Out
Product Code: 37883776-KVD-19-121
Made/ Mkt. By: Gaatha
L.W.H | Wgt:0 x 0 x 0cm | 200g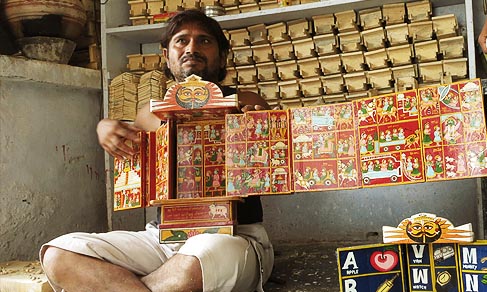 "If you can't go to the temple, the temple will come to you."

Much before cinema and animations, storytelling was in such forms that would bring
the storyteller and listener together in their mesmerising worlds of mythical heroes
and gods. The Kaavad was one such method of storytelling, which also had a religious
significance. It is a travelling shrine containing within its doors elaborate tales
and epics. With the mystery of a new turn in the tale behind every door, the Kaavad
would leave the audiences spellbound.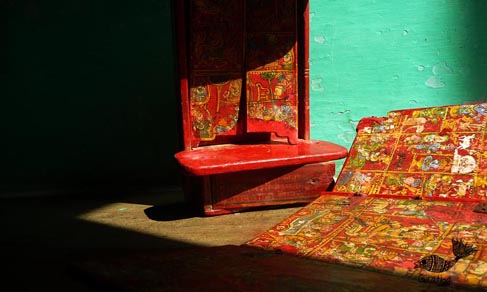 Kaavad is a rich, oral tradition of storytelling in Rajasthan, believed to be 4oo years old.
Kaavad is also the name of the medium used for this kind of storytelling; it is a portable
shrine, which has a visual narrative of mythological and folk tales. The shrine is not just
a religious piece of worship, but also a wonderful collage of images that are bound together
in stories by the storyteller, the Kaavadiya.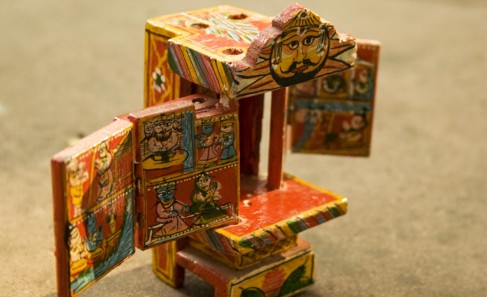 The Kaavad looks like a box with a number of doors, with colourful illustrations decorating
them. As each door opens, a new chapter in the story unfolds. The stories are from the epics
like Ramayana and Mahabharata as well as local folk tales about semi-divine heroes.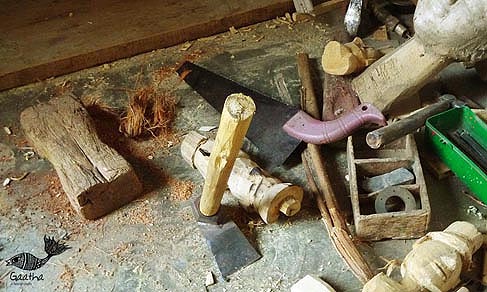 The Kaavad shrine is made of mango or sheesham wood, by a community of carpenters (suthars)
in the Mewar district, for the storytellers (Kaavadiyas) from the Marwar district who recite
the Kaavad (Kaavad Baanchana) for their patrons (jajmans) spread over Rajasthan and other states.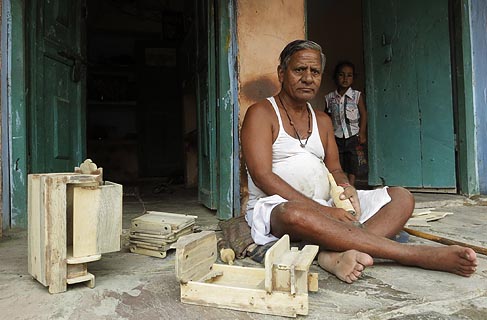 The Kaavad text constitutes the practitioners and their patrons, the painted images, the
shrine-like structure and the narratives. All are interdependent on each other and this is
perhaps the reason for its survival over the years. These days, the kaavad is also being used
as a learning device for educating children, because of its fun and interactive qualities.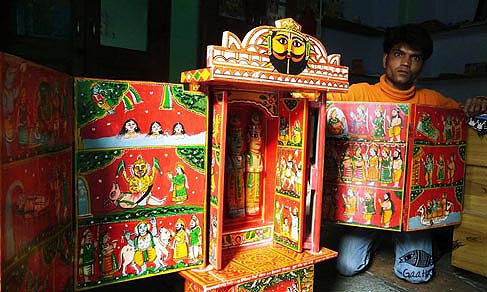 It seems that because of its ability to engross an audience and communicate lucidly, the Kaavad
tradition will evolve and spread far and wide.
| | |
| --- | --- |
| Craftsmen | |
| Made by | Shri Satyanarayan Suthar |
| Village | Basi, Chittorgarh |
| Material | |
| Made of | Wood |
| Instruction | |
| Note | The products in this category is handmade. These might slightly differ from as seen on digital screen. Tray Size in cm. : Small : 26 x 15 x 4, Medium : 30 x 8.5 x 4.5, Big : 34 x 21 x 4.5 |
---