12 Best Handloom Wedding Sarees
Times Read: 1729
A piece of art created using hands, mind and heart. Handloom is a simple machine for weaving. It is loom that is used to weave fabrics without the use of electricity and thus it's a manual operating system. The sarees made using this are known as handloom sarees. A perfect weave demands the coordination of mind and body and the dedication from the heart. The 'hand woven sarees' show the weaver's aspiration of simply bringing beauty, elegance and grace to life along with providing a glimpse of Indian heritage and culture in it.

Importance of Handloom Sarees,
Handloom sarees depict the culture, heritage of the place they come from and transmit the experiences and feelings of the weaver. This craft is a tradition handed down from generations to generations. Investing in handloom means doing your bit in preserving a traditional craft and supporting an artisanal community. Also since the looms are operated completely by hand. This makes it a slow, green and labour intensive process resulting in a carbon footprint that is close to zero.

1. BANARASI
Banarasi sarees are the epitome of elegance and have managed to stand the test of time. The silk material used for these sarees comes from Banaras, hence the name. They drape like a dream on all women encircling her borders in the colors of a meadow giving a rich tradition look... donned by a women for her best ocassions giving her a perfect Indian look. Experiment with colours, explore various motifs and envision the kind you desire to be. Banarasi saris have kept abreast with changing tastes and embolden women with their ever elegant finesse. Embedded so deep in the culture and conscience that an occasion in her life may never feel complete without one.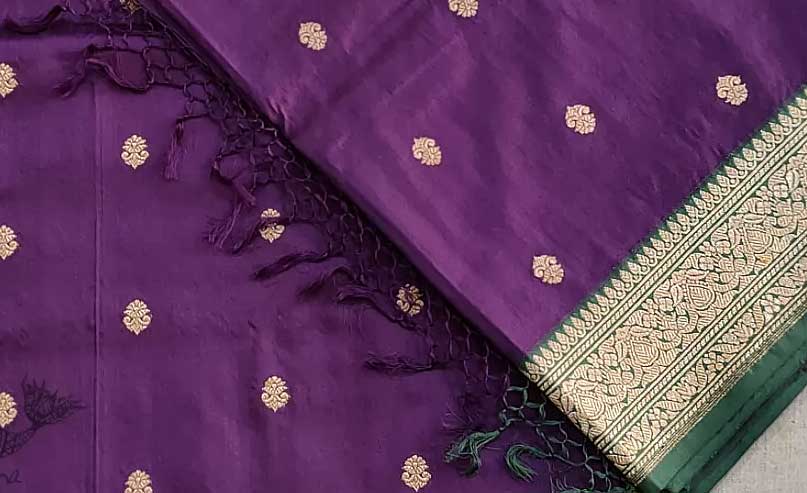 2. MAHESWARI
Rendered in the radiance of the finest Maheshwari silk, she was tenacious, serenity itself. The sari has a reversible border so that it can be worn on either side. The border is made of beautiful zari work. The body of the sari is usually plain or has an array of stripes or checks. It has a unique pallav with five alternating stripes, two of plain white and three coloured ones. There are geometric patterns decorating the borders. There are no floral patterns. These patterns are usually fine abstract representations of local elements like the river and the local architecture. With fine cotton yarns in its weft and silk in the warp, this fabric is light and airy for the summers, yet has the subtle luster of silk making you feel comfortable and look graceful for weddings during summers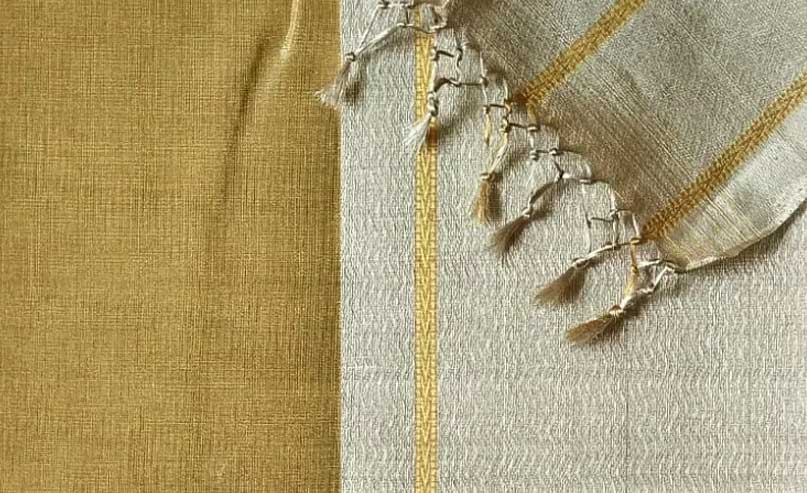 3. PATOLA
Patola saris continue to remain highly prized as festive clothing in Gujarat. The widespread opinion that they represent the traditional wedding sari, however, is not quite correct. The mothers of the couple and other older ladies will often appear in the colourful glow of these silks as a sign of their prosperity, religious feeling and traditional way of life. Patola are a matter of prestige. They are carefully preserved family heirlooms and are often presented as bridal gifts. A bridegroom may wear one over his shoulders as a lucky charm, or use it to drape his horse on his ride to the wedding ceremony. Wrapped up in wrapped & weft woven pixels, as she chases white dusk, stealing glances in exchange of her rosewood aroma; reminding everyone of the forgotten eminence.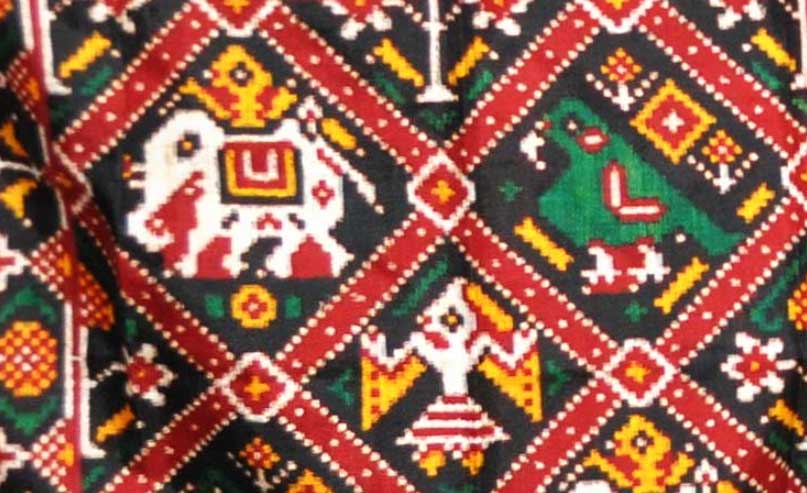 4. KANJEEVARAM
The Kanjeevaram fabric is considered to be one of the most durable and strong fabrics. Shiny and durable, these sarees feature intricate aesthetics that are woven within them with fine zari. These sarees are decorated with auspicious signs of Indian culture such as flowers, leaves, elephants, birds etc. Circling with what is truly a value to be made into a tradition with every step. Get hold of these Kancheepuram sarees & let people be amazed! A Kanjivaram silk saree can definitely add that divine touch to your attire during wedding ceremonies.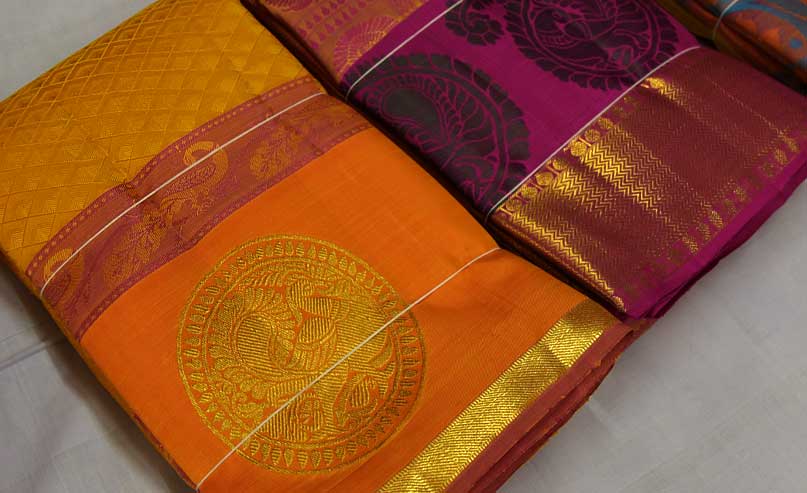 5. POCHAMPALLI
Pochampally saris are famous for their geometric designs. The geometric designs are spreads throughout the saree and create a unique look. If anyone looks at the sari directly, it will create a hypnotizing effect. Pochampally saris are lustrous, very lightweight and comfortable to wear. It is one of the best choices for festivals and weddings. The colors used in pochampally saris are 100 percent natural. There is no involvement of chemical dye. These colors are ordinarily bright with golden, orange, yellow, bright green, and much more. In the majority of cases, they use dull gold color to create the designs. But they also introduce motifs that also use bright colors in the drawings. Blouse designs for the Pochampally saris can contrast. A saree that can effortlessly make you attractive and stand out from the diverse crowd present at the wedding ceremony. For such a purpose, pochampalli sarees are the best option for as a classic wedding outfit.
6. KORAINADU
This nine-yard saris are made out of plain cotton as well as combination cotton and silk, and generally have checks or striped patterns, with contrasting borders. These Koorainadu saris with wide borders are called temple saris because they are woven and then offered to temple deities. To embark the humble beginning, dressed for the occasion are the women in this traditional saris, glittering gold & a garlands of jasmine dangling through their well-groomed hair beaming at each other with sheer joy. Korainadu can effortlessly make you attractive and stand out from the diverse crowd present at the wedding ceremony. Therefore, these sarees are used for wedding and religious purposes.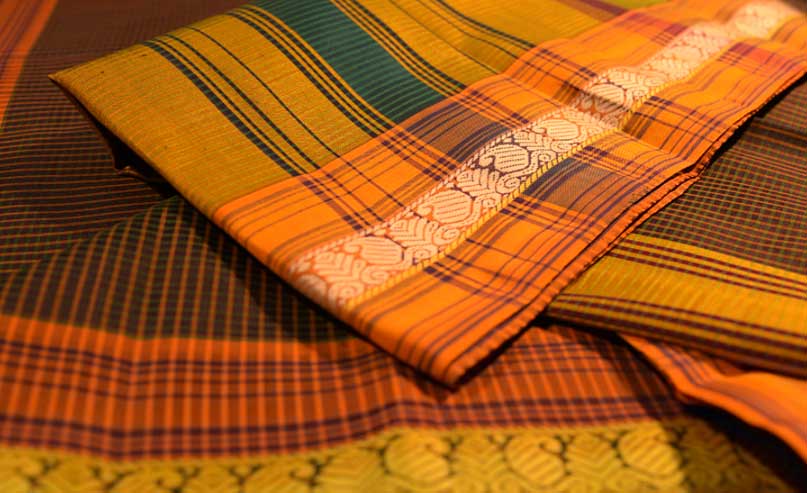 7. PAITHANI
Considered to be royalty among sarees, Paithani Sarees is known as the "queen of silks". This fine weaved silk heirloom earned its name from the city of its origin, that is, Paithan in Aurangabad. This masterpiece of work still remains a treat to the eyes. It also has earned a place as a classic wedding saree for family relatives too. It is not only the bride and the groom who needs to look their best on their wedding day but their relatives and friends too are required to adorn the best of their looks time carry an outfit that is comfortable as well because of the unlimited chores that need to be taken off. As these Paithani sarees are weaved from naturally dyed threads there is a variety of basic color options that best suitable for everyone in the wedding season. These sarees usually have two dominating colors, one on the saree and the other on the pallu and the border. Thus the soft intricate handwoven designs, the subtle colors of the naturally dyed threads and the delicate material make the paithani saree a perfect choice as a classic wedding saree

8. BALUCHARI
The saris woven in Baluchari tradition are characterized by elaborate motifs on border and 'Pallu'. Traditionally, scenes from religious epics and courtly ceremonies constituted the motifs in Baluchari weaves. Motifs that make up a Baluchari Silk saree or say what identifies the saree from other silk sarees are the lightweight heavy silk design weave pallu. Motifs like Chariots, Gods, Goddesses, Idols, Stories of Mahabharat, Ramayan, Bhagavad Gita scenes, are what identifies the type of saree. A king's throne, a dancer's poise, and tales of lovers woven in time... dream-a-drome, sheen up with the silken strands of Baluchari. Tale-up and add stories to your regularity, carry an accent, walk proud with this saree drapped with you.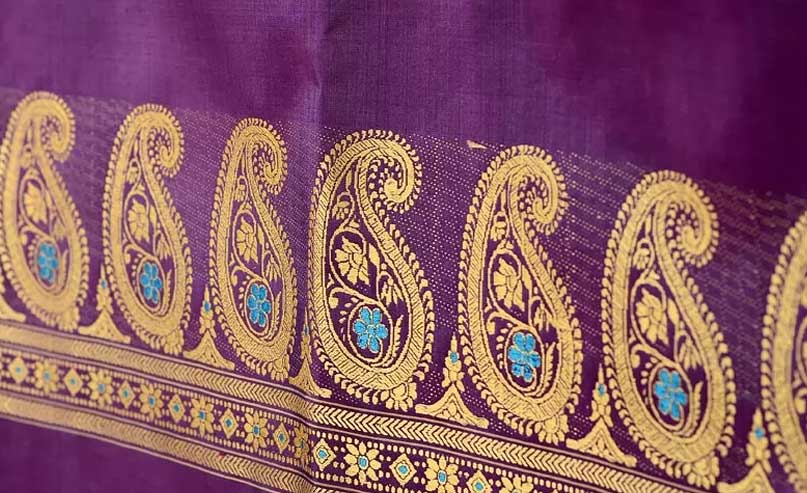 09. GARAD SAREE
Garad Saree is like the twin sister of Korial saree. What sets Garad saree apart from the Korial saree is that it has a lighter red border with flower-shaped symbols and motifs spread across it that gives it a more feminine and attractive look. The word Garad signifies 'White'. Garad saree is best suited for engagement and other small scale functions related to weddings. Garad Silk Saree is one of the famous styles of saree that has its inception in West Bengal. Handwoven Garad Silk Sarees are recognized by its red fringe and little paisley themes. Silk texture used to weave the Famous Garad Sarees is not colored which keeps the virtue element of the texture in place and in this way these Sarees have a holy significance to the ladies and make them appear like an angel in saree.


10. CHANDERI SAREES
This Indian saree is fascinatingly more than five thousand years old. .Chanderi sarees are known for their richly diaphanous quality and feather-like weight. These sophisticated sarees are woven with a blend of cotton and silk, with their characteristic zari motifs and prove to be ideal summer wear during weddings. They are famous around the world and their distinctive features include their floral motifs or 'Butis' in the Pallu and their gossamer translucency. A unique feature of the Chanderi fabric is its transparency which adds to its lightness and appeal. The sarees have a rich golden border and two gold bands on the loose end which hangs from the shoulder and is called Pallav. The Pallav ornamentation designs called the Butis or the golden embroidered motifs are paisley and floral – inspired by the lotus bud and jasmine flower. In the more expensive sarees, these motifs appear on the entire body.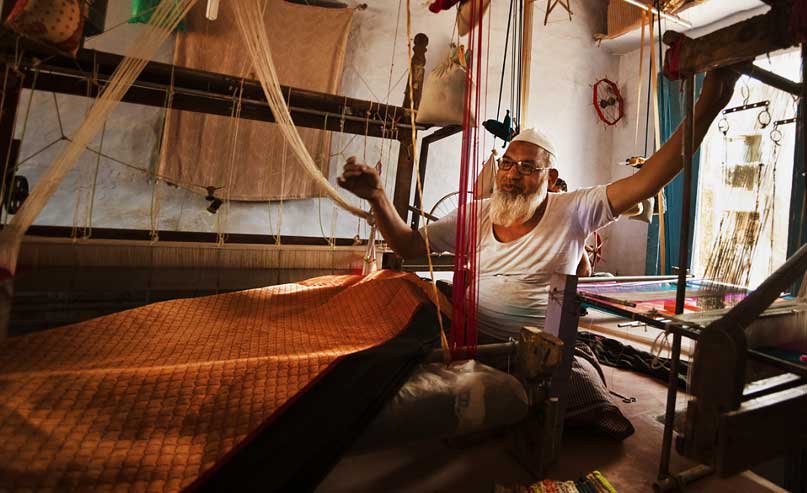 11. THRIUBUVANAM SAREES
The design and production technique of these sarees is known to set them apart and contribute to their significance. The sarees are made with filature silk that results in the creation of lustrous high-quality silk. In the case of wedding sarees, the zari is extremely heavy and thus, the weaver uses the zari as a wrap itself. The visuals and designs on the saree are also significant since they are largely derived from nature and South Indian culture. Motifs of mangoes, kalasam, temple, rudraksham, diamond,Neli, Kodi, and even Visiri are displayed on saree. Colours like parrot green, coffee brown, and golden yellow are the most popular ones. Thereby, making this tribhuvanam saree one of the most exotic and coveted varieties of silk sarees in India. These sarees are decorated with heavy zari work, bright colours, motifs, and exquisite designs to convey the femininity and boldness of women.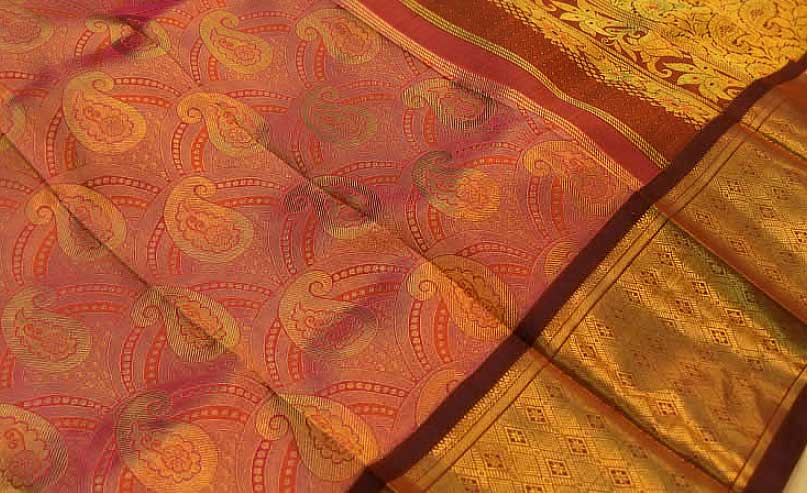 12.

ILKAL SAREE

Ilkal is a town in North Karnataka, where 50-60% people in Ilkal into handloom saree weaving work since the 8th century. Ilkal Sarees are famous for its saree border and pallu, which has a unique design called as chikki border and top teni pallu & many different designs. The Ilkal Sarees are used to be a common femine wear mainly in North Karnataka & Maharashtra but nowadays the Ilkal Saree is becoming a new trend among youths all over India for weddings, if you want to rock in saree during the function and to look classy then this is the best choice.