Difference between Handloom and Power loom Saree?
Times Read: 4630
Handloom sarees depict the culture, heritage of the place they come from and transmit the experiences and feelings of the weaver. This craft is a tradition handed down from generations to generations. Investing in handloom means doing your bit in preserving a traditional craft and supporting an artisanal community. Also since the looms are operated completely by hand. This makes it a slow, green and labour intensive process resulting in a carbon footprint that is close to zero.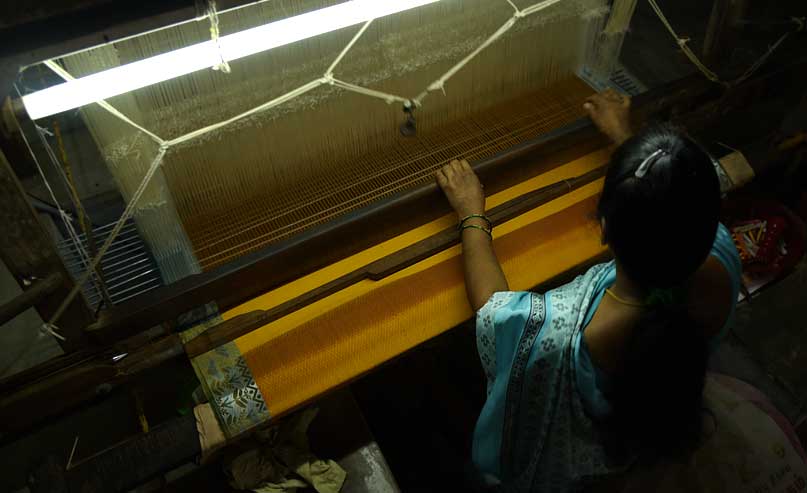 Handloom sarees are woven by hand on simple machine loom and power loom sarees by machine, powered with the electric motor. Handloom is a dying skill, rapidly being replaced by Power-Loom. As it produces fast and at cheaper rates. Despite of that the sarees produce on power-loom are merely a six-yard of fabric, hardly personalised, all workers are just a part of the machinery, a mechanical system where repetition is the saviour. As masses are drawn to the attraction of low rate, left with no choice, many weavers have unwittingly adopted power-loom but still, there are quite a handful of humans in the remote areas who refuse to give up their tradition and what they stand for.
It's important to stand for these people and value their art, tradition, time, skill and effort that goes into making these exquisite handloom sarees. So, following are a few pointers that will help one differentiate between genuine handloom saree and a power-loom saree.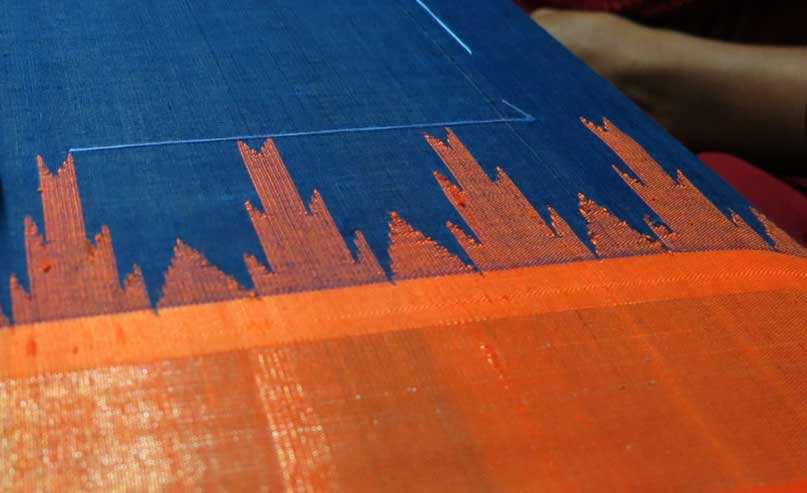 How to identify handloom sarees?
- Handloom sarees will have rugged and uneven surface since its hand woven. Whereas power-loom sarees will be even in texture and flawless.
- Handloom sarees will have pin marks or holes on equal distance on top or bottom near the borders, since they are woven by pinning the saree to the loom. Power-loom sarees lack these as they are flawless.
- Handloom sarees are softer in texture and more resilient compare to power-loom sarees. The latter are stiff and do not drape well.
- Handloom sarees often have extra threads at the end of their pallu, whereas power-loom sarees don't have them. These threads can be used to make tassels.
- In handlom saree artisan do more customisation with weft threads, in power loom mostly produce same replicas
- The level of intricacies and details of handloom sarees cannot be matched by the power-loom sarees. Certain kinds of weaving patterns are only possible in handloom sarees.
- The power-looms sarees have thinner fabric whereas handloom sarees weigh heavier and have a lot more body.
- Handloom sarees have better recovery from creases or wrinkles compared to power-looms.
What are the popular types of handloom sarees in India?
We have more than hundred handloom saree weaving clusters in India. some of the most popular clusters are following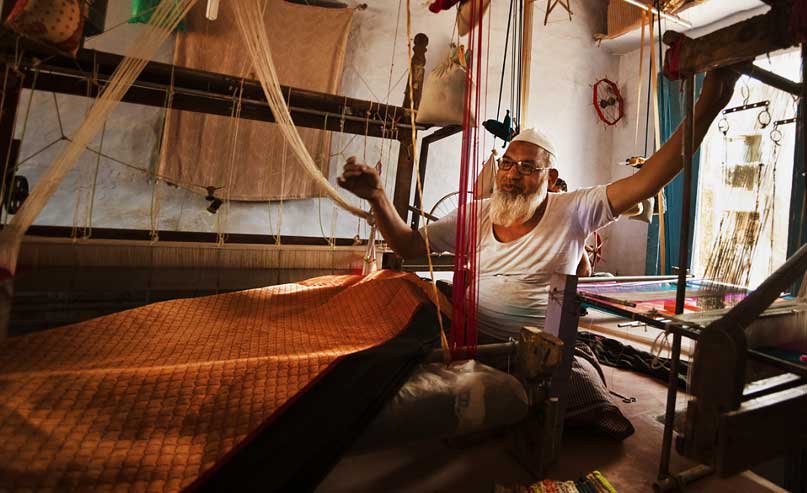 Kanjeevaram or Kancheepuram Silk – Kanchipuram,Tamil Nadu
Banarasi Sarees - Varanasi
Tangail Sarees – Phulia, West Bengal
Baluchuri Saris – Murshidabad, West Bengal
Chanderi Silk – Chanderi, Madhya Pradesh
Sambalpuri Silk – Odisha
Maheswari Silk – Maheshwar, Madhya Pradesh
Tant Saree – Traditional Bengali style saree
Sambalpuri Saree – Sambalpur, Odisha
Kasta Saree – Maharashtra
Kosa Saree – Chhattisgarh
Kasavu Saree – Kerala
Muga Silk – Assam
Paithani Saree – Paithan, Aurangabad
Pochampally Saree – Telangana
Konrad Saree – Tamil Nadu
Cotton Saree weaving - Paramkudi, Tamil Nadu
Patola weaving - Patan & Rajkot, Gujarat

So, handloom sarees weaning are more than just a piece of fabric. They are the weaver's skills, hard work, traditions and a lot more...