10 Popular crafts from Madhya Pradesh
Times Read: 2440
The central state of Madhya Pradesh is a melting pot of culture, traditions and most importantly art. Each weave, brush stroke and molded metal is derived from a story with rich history and fantastical tales. The best examples of these handmade crafts paying homage to our country has been curated in this top 10 list.

1. CHANDERI, ASHOKNAGAR DISTRICT

The single flature quality of yarn is used in this exquisite cotton-silk blend saree to achieve a gossamer translucency. Legends say it was sent across to Mughal Emperor Akbar in the narrow hollow of a bamboo stick. When the cloth was drawn out of the bamboo stick, it sent out a wave of shock since it was large enough to cover an elephant. The delicate gold butis and motifs appealed to royalty and nobility and continue to do so.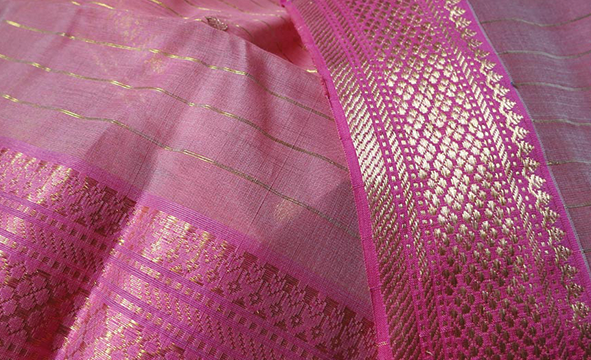 2. MAHESHWARI SILK, MAHESHWAR

Fine handloom cotton & silk yarn is woven and brought together with its uniquely bordered traditional five stripe design running parallel across its length and on its Pallav (the edge which lies across the shoulder) and has a reversible quality, a style ahead of its time.

Queen Ahilyabai Holkar, the ruler of Malwa, made Maheshwar her capital city in 1767. This small town by the banks of the river Narmada was transformed during her rule into an active center of trade and industry. The design of the Maheshwari Saree / sari was one of the steps taken towards this development by the Queen. What began as a simple gray cotton fabric transformed into a symbol of grace and beauty as weavers from princely states were invited to rejuvenate the design.
3. BAGH PRINTS, BAGH
The craft as well as the village derive their names from the River 'Baghini' that flows through the village and serves as a spine for the craft. Bagh printing is an array of dynamic floral and geometrical prints made using finely cut wooden blocks and vegetable dyes. The characteristic red, black and white used in the motifs are of immense religious and cultural significance in the Dhar tribe of Madhya Pradesh.

The association of tigers (also bagh) with the dense forests surrounding forgotten Buddhist caves near the Bagh river in which the fabric is washed multiple times to achieve a soft texture lends to its name.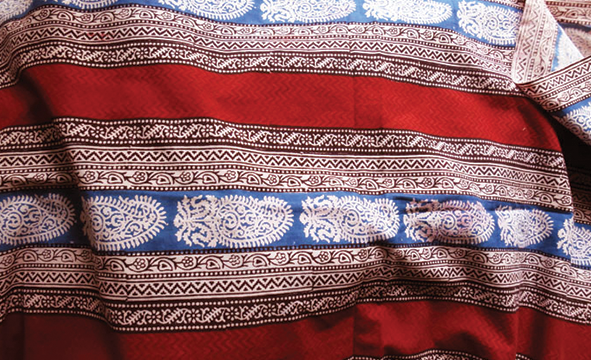 4. ZARI ZARDOZI. BHOPAL
Thriving since the Rig Vedic times, a combination of two urdu words 'zar' meaning gold and 'doz' meaning hand-work/sewing or embroidery was used to embellish the garments of Royalty. Metallic threads entwining stones and sequins to create elaborate patterns usually for brides. Starting with the Begums of Bhopal, zardozi is now available for export and the rise in popularity has led to an immense appreciation of the traditional artisans dexterity and precision making everyone feel like royalty.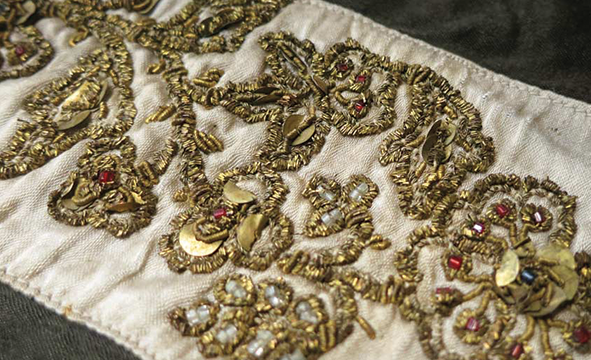 5. BATTO BAI DOLLS, JHABUA
These dolls closely resemble the features of tribes living all across the subcontinent, in a way the tribes identify themselves through this craft. They are gifted to brides and act as meaningful souvenirs and an apt educational tool on the fragile nature of tribes that continue to survive despite all odds against them.

The sustainable process makes use of recycled scrap cloth . The artisans are generally women that undergo 6 months of training and eventually create a doll that grows with you into companionship that is often thrashed onto the floor to prove its sturdy nature.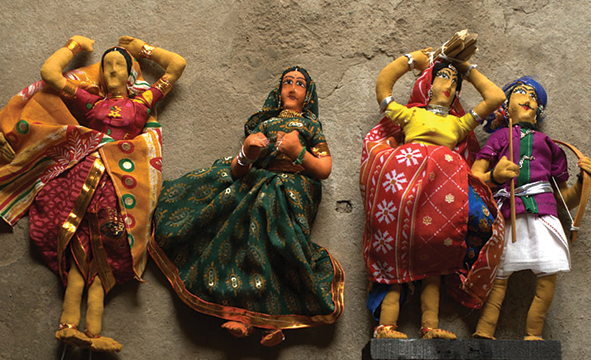 6. DHOKRA METAL CASTING,BETUL
the art of sculpting brass using the ancient technique of lost – wax casting. This type of traditional bell metal casting is used to create unique accessories and functional/ decorative 3D motifs such as elephants and peacocks in their indigenous tribal representation.
The wax strings are coiled to create beautiful patterns. The natural beeswax retains its malleability even after cooling down, making it an excellent choice to create coiled shapes and miniature patterns that are a combination of abstract and realism. Tribal myths, magic and designs inspired by nature are given form through this art.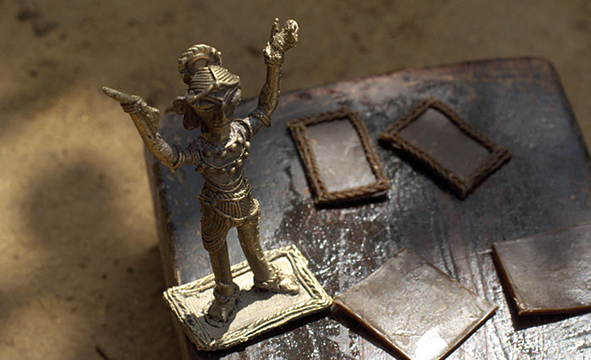 7. GOND PAINTING, PATANGARH

These indigenous graphic expressions are a way of life for the Gond tribe in the small Dindori district village. These colorful descriptive paintings are holistic depictions of the tribal life threatening to disappear with no trace.

The intoxicating local "Mahua" drink is said to be responsible for these colorful, abstract representations of the tribal lifestyle that grows beyond just decorative values on the walls. They are etched on bodies, weaves (baskets, etc) and play a special role of storytelling during weddings and other occasions.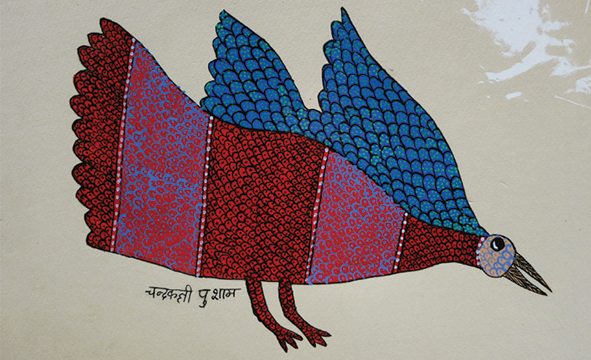 8. NANDANA PRINTS, TARAPUR
One of the few surviving art styles in its pure traditional form, this mud resist style of block printing is equally revered by the women of the Bhil tribe it originally adorned and its contemporary counterparts.
The rustic style is captured on chaste cotton with natural dyes. The traditional motifs of the Nandna prints are not necessarily influenced by the flora and fauna in that locality. The erstwhile nomadic life of the Chippa community has brought in influences from all over Uttar Pradesh, Madhya Pradesh, Rajasthan, Gujarat and Punjab. The blocks were also sourced mostly from Pethapur, where designs were eclectic. Therefore, the traditional motifs are inspired from nature and have no cultural influence on them.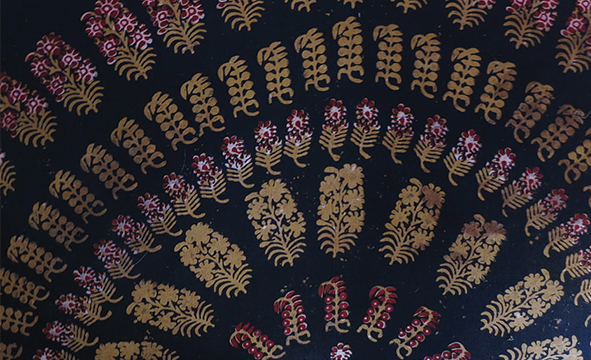 9. BATIK PRINTS, BEHRUGARH
The previously mentioned mud is replaced by wax, a common resist method from ancient times with evidence of its usage in Indonesia and such. The fabric is washed in hot water to get rid of the wax and what remains is the printed fabric. Repeating this multiple times gives desirable effects. It is one of the most innovative forms of textile printing in the world.

Similar to the accidental discovery of silk in China, wax resist dyeing has a similar origin story based off of a Chinese folktale from the present day Guizhou Province. Now chippas in India keep the craft alive
10. LEATHER ANIMALS, INDORE
Miniature to life size versions of animals from a mere photographic reference is made by craftsmen and their families as they cater to taxidermy enthusiasts. An accurate figurine, complete with posture details and muscular curvature, is skillfully created by the craftsmen with lifelike precision. The leather is stuck and is only worked upon, when orders are placed.Most of the workers involved in the craft belong to the scheduled caste or tribe and often work from home for larger export houses. Women and children are involved in the work too. Different families have specialized themselves in the various steps involved.