प्राचीन ❂ Bead Wall Art ❂ D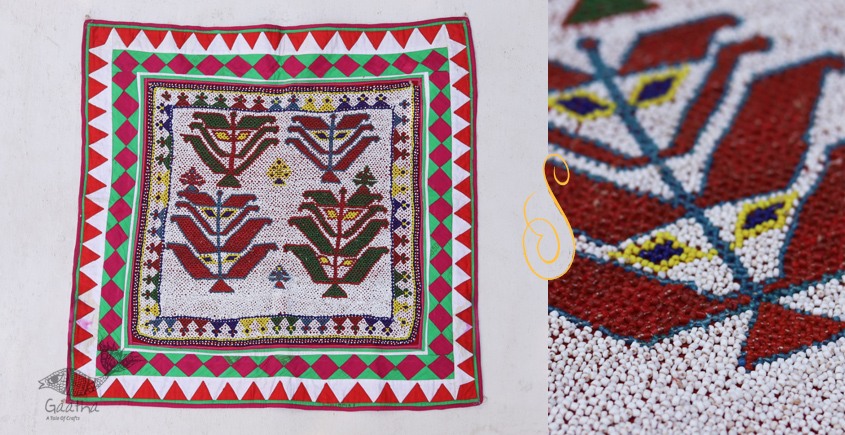 ABOUT
Rural women of Saurashtra have individually handcrafted these Toran and embellished them with colorful glass beads. As glass beads have been a symbol of prosperity and wealth since ancient times, these will surely fill your living spaces with goodwill and gaiety.
Availability: 1
Product Code: 2323-BW-AP-4
Made/ Mkt. By: Gaatha
Box- L.W.H | Wgt:68 x 72 x 0cm | 850g
Gujarat is synonymous with colourful embroideries with rich textures, saturated hues and interspersed sparkles. But it is not just Kutch, which is famous for a variety of beautiful embroideries; the Saurashtra region (also known as the Kathiawar peninsula) also has its own style of embroideries, with a history of myths and influences.
After the epic war of Mahabharata, Krishna came to Dwarka. He had freed a thousand women from a demon and these women followed him to his capital city, as his Gopis and devotees. They brought along with them their styles of embroidery, which flourished ever since.
Kathiawar gets its name from the Kathis, who were a landlord caste and the first practitioners of the Kathipa style of embroidery. Heer Bharat or silk floss darning constituted a major part of this style, combined with herringbone stitches and geometric patterns. This style absorbed influences of the Ari chain-stitch embroidery of the Mochis and also spread to other communities in Saurashtra. In the past few centuries, some overlapping styles of embroidery evolved and gave it its present form.
Unlike Kutch, where the primary application of embroidery is the bridal trousseau, the Saurashtra embroidery is generally used for household and decorative items. The Toran, which is a decoration for doorways, has tapering pennants hanging from its horizontal edge; these represent mango leaves which are considered auspicious and welcoming. Another object, the Chakla is a square piece of fabric that the bride uses to wrap her dowry articles and later decorates her new home with it. Other such decorative pieces used on the walls and furniture are all heavily embroidered with cotton and silk threads and embellished with mirrors and shells in this part of Gujarat.
The women also practice appliqué, the art of layering small pieces of fabric cut in various shapes on to a base fabric. Appliqué and reverse appliqué both are also sometimes combined with chain stitch and herringbone stitch embroidery.Ganesha is very often represented through this method on appliquéd friezes to be placed on top of doorways. From episodes in the epics like Ramayana, to animals like elephants, peacocks, parrots, flowers to even modern day to day objects like watches and music players, all feature in the colourful pieces of appliqué.
Even though most traditional crafts like embroidery may not be at their pinnacle today, the women who practice this craft have been contributing to the growth of small scale industries in the city of Savarkundla in Amreli district located in the Saurashtra region. Today, the women are in the process of forming self help groups and supply decorative souvenirs, wall hangings, beaded Chaniya-cholis to major cities across Gujarat. Women are carriers of tradition, and these Savarkundla women are generating income and livelihood for the community while keeping the traditional crafts alive.
| | |
| --- | --- |
| Craftsmen | |
| Made by | Unknown |
| Village | Saurashtra region |
| Material | |
| Made of | glass bead and fabric |
| Instruction | |
| Note | * Products in this collection are handmade and unique. * These embroidery pieces are antiques, imperfections and variations cannot be deemed as defects rather intrinsic to the handmade process. * The products in this category cannot be returned or exchanged. |
---