Madhuban ❁ Madhubani Tussar Silk Tie ❁ 16 ❁
ABOUT
Handpainted poetry by rural artisans of Bihar, each of these tie are unique. Made to accompany you to your work place, occasions, they reflect the love and patience that a woman would put in to look her best on the day of her life... These stunning pieces will bring vibrance to you.
Availability: Sold Out
Product Code: 2018-VMS-16
Made/ Mkt. By: Vivarang India
Box- L.W.H | Wgt:140 x 0 x 0cm | 100g
Janakpur is the place from where Raja Janak ruled the whole Mithila kingdom centuries ago. In Sitamarhi, a historical place in Mithila, on the banks of river Lakhandej, Raja Janak found a girl child lying on a ploughed land. He picked her up and named her Sita. She went on to become the queen of Ayodhya after her marriage with Rama, the charming prince of Ayodhya. For Sita's Swayamwar, Lord Rama broke the famous bow of Shiva 'Pinaka' to win the princess's hand. Gauri, Shiva's wife expressed her desire to paint the first ever Mithila painting on the wall. 'Ramcharitmanas', a masterwork of Kalidasa, has a mention of the incident on the occasion of Rama and Sita's wedding ceremony.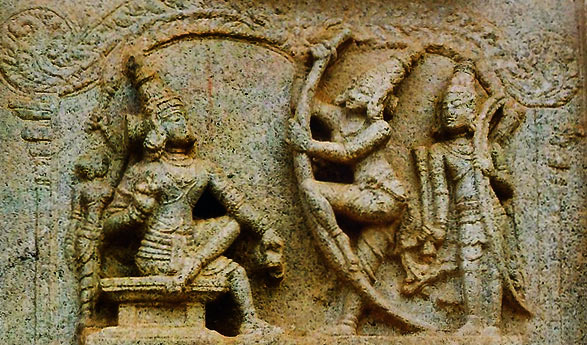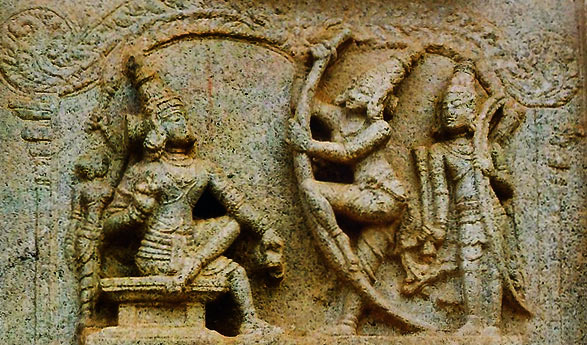 Being the birth place of some of the most celebrated folk takes of India, it comes out quite naturally that the natives of Mithila have an innate quality to conceive a visually captivating narrative art form, to tell these tales with their due reverence. These visual narratives are known as Madhubani Paintings, literally meaning the 'Forest of honey'. These are also one of the earliest forms of Indian paintings.

An artist's role is to create a world of imagination, the women of Mithila used to paint elaborate murals to express their thoughts, desires and anxieties; these were also a way to communicate with the male folk of the community. Therefore, these paintings are thought provoking murals, usually depicting local flora and fauna, images of Hindu deities with elaborate ceremonial arrangements etc. Originally painted on floor as Aripana or on walls as Kohabar, by women from different communities (mainly Kayastha and Brahmins), the medium nowadays has been changed to handmade paper.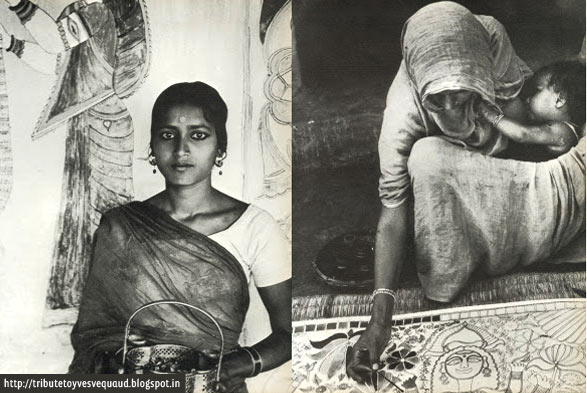 As the paintings were an expression of women who spent most of their lives within the boundaries of their household, number of style evolved based on the unique experiences of women of different community. Pertaining to the social set-up, upper caste women who led a very confined life were also restricted in their themes and symbols. But with time their paintings evolved in stylistic patterns and intricate detail work. While Brahmins preferred very bright hues, the Kayasthas opted for muted ones. In the Harijan style of paintings, hand made papers was washed in cow dung first.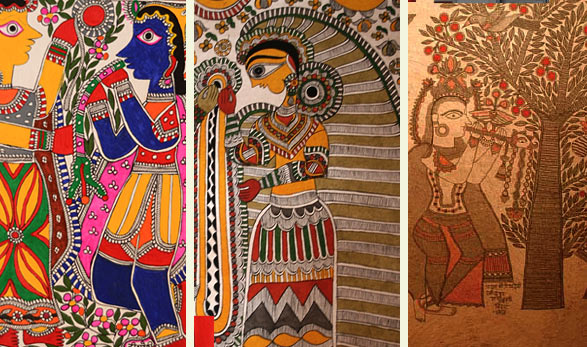 The colors were derived from natural resources, like metals, seeds and plants or from easily available household substance. Black was derived from charcoal mixed with cow-dung, blue from indigo leaves, yellow from turmeric, red from flowers or sandalwood, green from leaves and white from rice powder. These natural juices were mixed with resin from banana leaves and ordinary gum in order to make the paint stick to the painting medium. Homemade paints were time consuming and produced in less quantity. Now colors come in powdered form, which are then mixed with goat's milk.
Once the paints are ready, two kinds of brushes are used - one for the tiny details made out of bamboo twigs and the other for filling in spaces, which is prepared from a small piece of cloth attached to a twig. In an Aripana (floor painting), a paste of crude rice, locally known as 'Pithar' is used. Aripana is also made on banana leaves or wooden furniture. Women paint these with the fingertips of their right hand, red and yellow being the main colors. Depending upon the occasion, main themes are Astadala, Sarvatobhadra, Dasapata and Swastika. While painting Kohabar (wall painting), 3 to 4 colors are taken into account and main themes are Nayana-jogini, Purain, carrier of fish, curd, fruits, local trees or birds. Women also paint on domestic objects such as clayware, furniture or objects made from local grass. The patterns adorned on the faces of brides and Sumangalis are also a form of Kohabar. Many believe that these paintings also have some tantric significance. Non-vedic rituals, which are practiced by women during marriage, like Thakka-Bakka, Nayana-Jogini can be linked to MithilaTantra.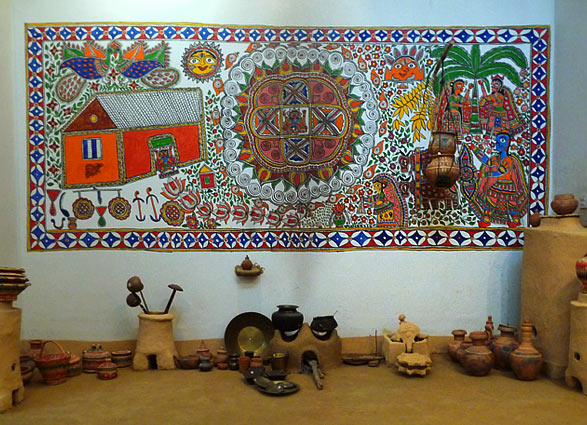 The talent of painting these magnificent murals on floor or walls is passed on to generations amongst community women. This is how this art has survived since ancient times. A girl learns to handle brush and colors from an early age; her apprenticeship ends with a Kohabar completely painted by her and is highly valued in her community. All the religious rituals of a marriage are performed in front of that Kohabar.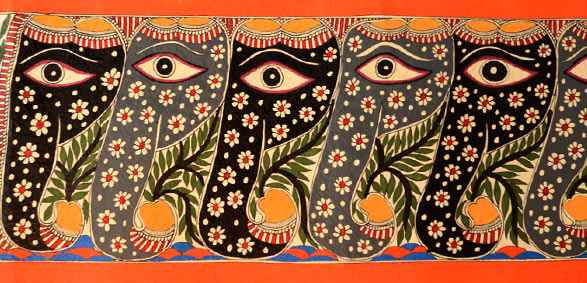 Madhubani paintings are a mobile form of these wall and floor murals of Mithilia, which are done on paper or canvas and are comparatively a very new intervention. Extreme climatic conditions such as flood or drought made the women of Mithila consider selling their art. Gradually the art found place in greeting cards, dress materials, urban wall hangings etc. Clever use of bright colors, stylized figures and unique human forms was loved by people and Madhubani today is celebrated world over as one of the pioneering arts forms from India.
| | |
| --- | --- |
| Craftsmen | |
| Made by | Craftsmen working with Vivrang India |
| Material | |
| Made of | tussar silk |
| Restrictions | |
| COD - Option | COD Not Available |
---