Jaanki . जानकी ✽ Handwoven Banarasi Silk Saree ✽ 32
ABOUT
Handwoven with love from lanes of banaras, Threads of silk with touch of calm... Shining jewels these motifs of gold and silver... evergreen & alluring..like the diva herself...
Availability: Sold Out
Product Code: 1555-BS21-ISS-32
Made/ Mkt. By: Islam Silk & Sarees
Box- L.W.H | Wgt:550 x 116 x 0cm | 600g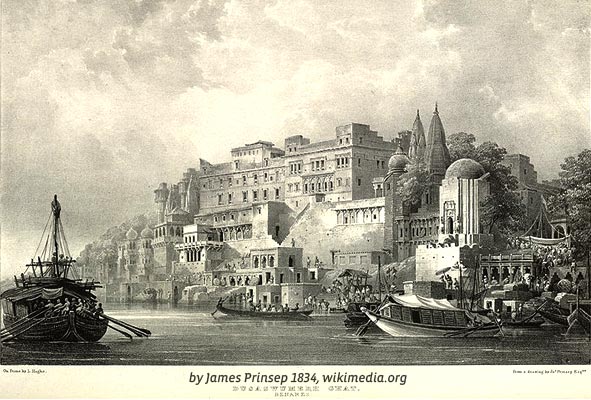 "Older than history, older than tradition, older even than legend—and looks twice as old as all of them put together."- Mark Twain on The city of Varanasi.



People usually visit Varanasi out of belief, out of doubt or out of curiosity and the city has always served to convert those beliefs into doubts, those doubts into beliefs and the curiosities into indifference. Situated by the banks of River Ganga, the city gets its name from the river's two tributaries 'Varuna' and 'Asi'. Other well known names of this city are 'Benaras' and 'Kashi'. The name of this ancient city is synonymous with some of the oldest temples, most exquisite pans and finest of fabrics.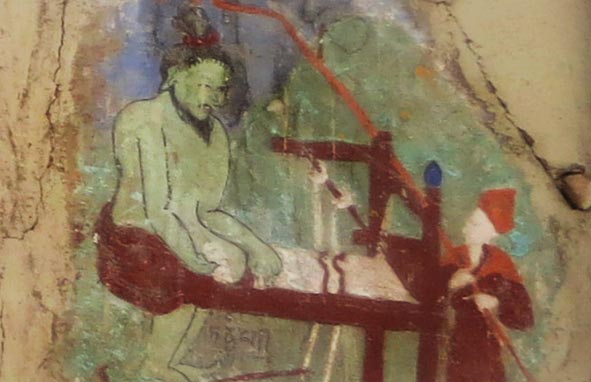 The place is believed to have flourished as a textile centre when it was a capital of Kasi kingdom, of which Siddhartha (later known as Gautam Buddha) was the prince. In Bhuddha Sutra when Prince Siddhartha decides to renounce worldly luxuries, he takes off his silk clothes, mentioned to be woven by the weavers of Kasi to get into simplest of attires. It is also discussed in 'Jataka Puran' that when Buddha was alive, Kasi kingdom was a crucial centre for silk and cotton fabrics. In 5th and 6th century BC exquisitely woven cotton fabrics from Kasi became the most sought after commodity all over the world. When Buddha attained moksha, chaste cotton fabric was sourced from Kasi to wrap his purified remains.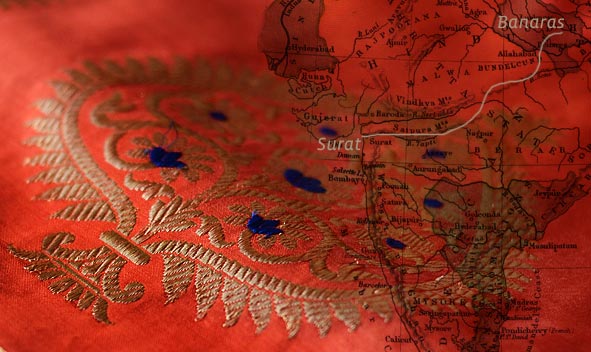 Zari and Brocade textiles are a specialty of the city. The earliest mention of these regal fabrics can be found in the 19th century literature. Silk weavers from Gujarat migrated to Kasi in 17th century after a famine in 1603. A new environment for weavers gave a way to various innovations and by 19th century, the city had flourished as the Textile capital of the region. Development of brocade and zari work in the city saw new heights during Mughal period, especially in the reign of emperors such as Akbar.
Having witnessed centuries of handmade textile tradition, the city has seen many changes in preferences of colours, patterns, motifs, borders and styles over the years. Between 350 AD to 500 AD floral patterns, animal and bird depictions gained popularity. By 13th century 'Butidar' designs were excessively in demand. With the advent of Mughals & following cultural concoction in 16th century, Islamic patterns like florals and 'Jali' or 'Jaal' came in vogue, giving a new flavour to Indian fashion trends. Soon in 19th century, Indian designs started showing a close resemblance to Victorian style wall papers and Geometrical patterns (a carry forward of the Mughal Lattice work).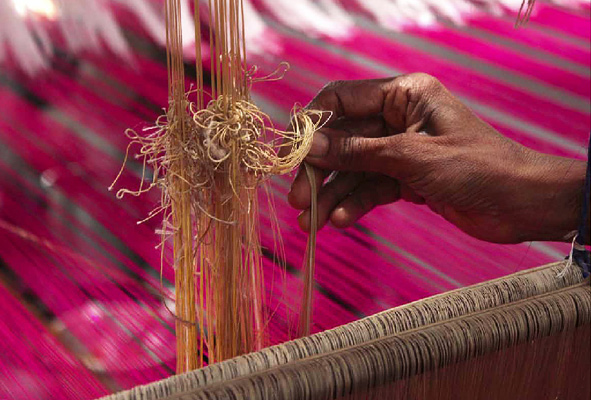 Today's fashion trends are based on revival of the traditional patterns and mixing them with modern colour and style sensibilities. Intricate floral and foliate, Kalga and bel, Jhallar can often be seen on the borders of modern Benarasi Saris. The names of the saris are kept as per the motifs or patterns woven in them. To name a few- Pure silk (Katan), Organza (Kora), Brocade sari, Jamdani sari, Chiffon Jamdani sari, Jangla saree, Kora cutwork saree, Resham buti saree, Satin border saree, Satin embossed saree, Tanchoi saree, Tissue saree, Cutwork saris.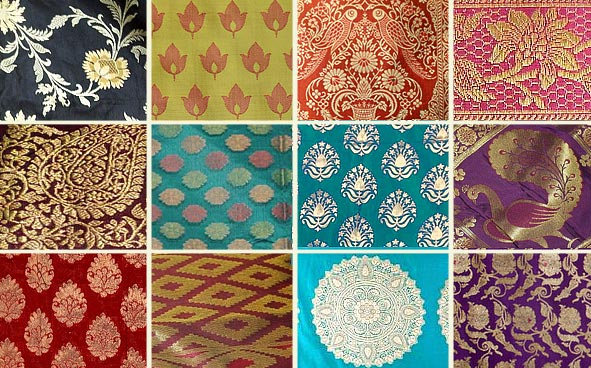 Brocade is a speciality of Benaras fabric. It is a characteristic weave in which patterns are created by thrusting the Zari threads (pure form of Zari is a thread drawn out of real gold) between warp at calculated intervals so as to evolve the design/Buti line by line. A type of loom called Drawloom or 'Jalla' was used to weave a brocade fabric.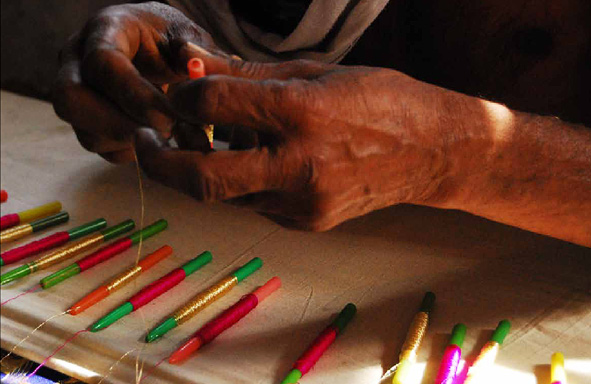 With the advancement of technology, these are now woven on Jacquard looms, which allow for pre-planing of the entire design and then going about the entire process rather mechanically. 'Tanchoi' is a sub-set of Brocade and it requires only silk yarn as raw material. There is another Benarasi innovation called 'Jamdani', which involves laying designs by hands without using any mechanism. Jamdani technique works around cotton only and is still executed on traditional pit looms.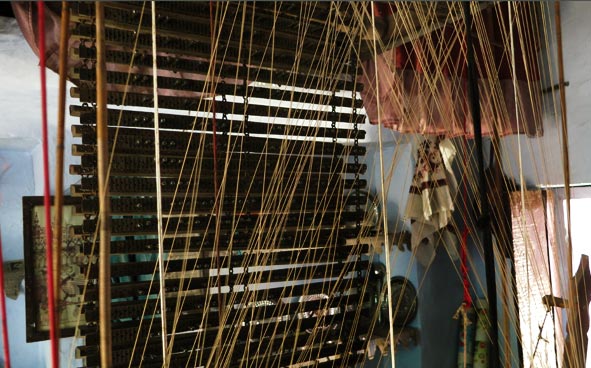 'Karkhanas' or weaving centres are spread all over the modern city and the weavers, known as 'Kaarigars' often work under the guidance of a well managed Karkhana. The workshop of a single loom weaver is called 'Bunker'. A master weaver may have 15-20 weavers training/employed under him. There are two traditional weaving sectors in Varanasi- Alaipura and Madanpura. Both groups have their own unique compositions and weaving techniques, which are easily distinguishable.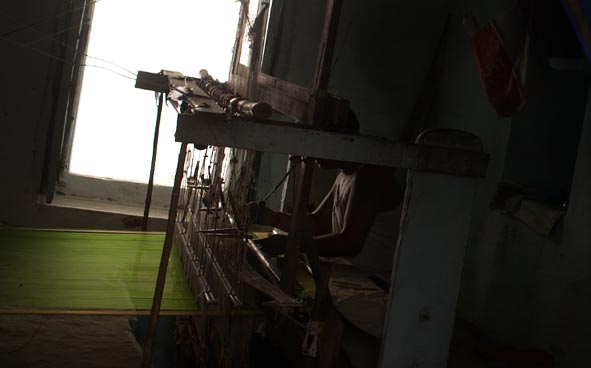 Madanpura weavers are known for fine and delicate traditional work on 'kinkhab', whereas Alaipura weavers are renowned for experimenting with new techniques and designs. The selvedge of the fabric made in Madanpura are neat compared to those woven in Alaipura, which are deliberately kept rough and uneven. Besides these weaving sectors, the other centres in and around Varanasi district are Nati Imli, Lallapura, Chittanpura, Ramnagar, Dulahipur, Pilikothi, Cholhapur and Dharsauna.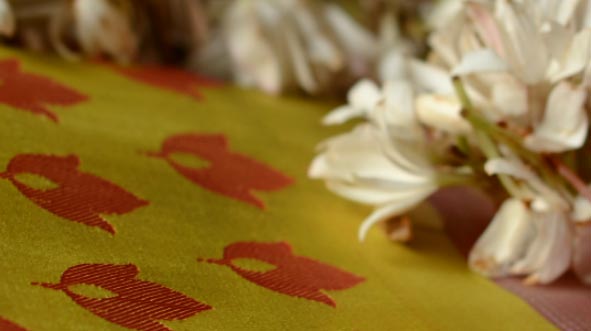 In the city as old as time, with a weaving tradition that is equally historic Benarasi saris have kept abreast with changing tastes and embolden women with their ever elegant finesse. Embedded so deep in the culture and conscience that an occasion in her life may never feel complete without one.
| | |
| --- | --- |
| Craftsmen | |
| Made by | Artisans working with Islam Silk & Sarees. |
| Returns and Exchange | |
| Note | The items in this category cannot be returned or exchanged. The products in this category is handmade. These might slightly differ from as seen on digital screen. |
| Material | |
| Made of | Silk |
| Instruction | |
| About Sizes | Width- 46 Inch, Length- 5.5 Mtrs, Blouse- 100 Cms |
| Care | Dry clean only |
| Restrictions | |
| COD - Option | Not Available |
---