Sikki earrings ~ auric triangles
ABOUT
Working around seasonal grasses and traditional colors, this jewelry set was brought to life by the native artisans of Madhubani, Bihar. The lightness of organic grass and vibrance of Indian color pallet are sure to impart fresh life to your ensemble.
Availability: Sold Out
Product Code: 3792-37
Made/ Mkt. By: Ms. Meera Thakur
Box- L.W.H | Wgt:0 x 3.5 x 4cm | 10g
A haat bazaar in Sitamarhi district of Bihar is abuzz with villagers, children springing around the toy seller, plundering his basket, men hawking on newly fabricated tools brought by the blacksmith and the giggles of young women mixing with that of glass bangles. Spice hills have been laid out on mats, leather utilities hung on wood beams, fruits and vegetables placed fresh with traces of morning dew still shining on them. At the corner hawkers wait with large heaps of finely splintered Sikki grass, for people to come and buy a fistful of these golden tresses.
The weekly 'haat bazaars' held in villages are more or less the same across India. But on a closer look, there are some differences very peculiar to the region, things unique to each region being sold and bought as items of daily utility... things, which a passerby may find intriguing, or a total dreck. One such thing being sold in this Haat is Sikki grass, a gold tinted grass commonly found in middle-eastern India. Interestingly, this grass is measured and sold on a fistful basis. A customer can grab as much as he can with his fist and whatever extra his hands can grab is his steal.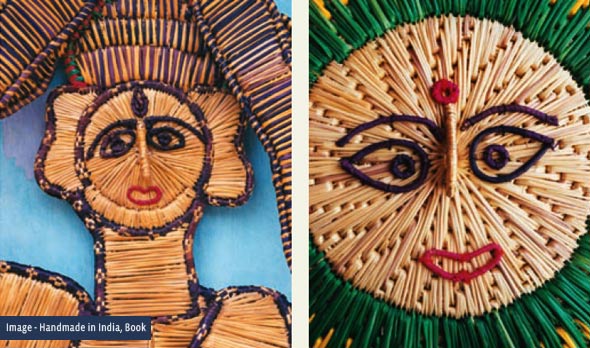 Sikki is considered auspicious by the natives and involving in daily practice of weaving it into ornaments and objects of utility is a way for women to vent out their creative instincts. The grass has served as a vital raw material in making of a variety of products since ancient times. There is hardly a ritual where it is not taken into account, figures of deities and votive offerings are woven during festivals, young women weave baskets known as 'Pauthi' which are used to exchange gifts in a wedding, household items such as boxes, toys, jewelry and murals are also crafted out of this grass. Sailesh puja, the only festival of the Moosahar tribe, involves a wide range of colorful sikki products for ritualistic uses.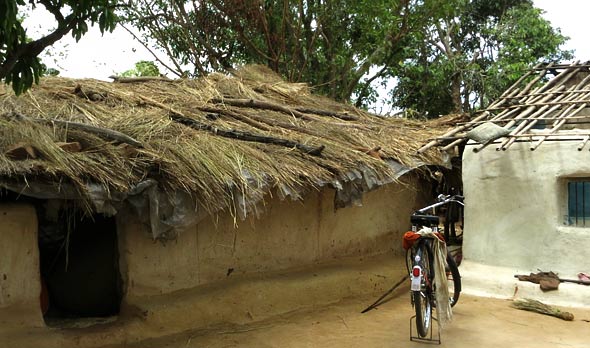 This seasonal wild grass has a natural golden tint and it grows in marshy areas near water bodies and harvested during rainy season. A native tribe known as 'Amas' has inherited the task of harvesting the grass and processing it for sale. When the grass attains adequate height, it is cut from base and dried under the sun. The upper portion with flowers is then discarded and the remaining part is used as fine splinters. Other grasses, namely Munj and Khar are also essential raw materials for making sikki products. Munj is comparatively cheaper and more rigid; it is used to impart structural strength to sikki products. To make the products, Munj is bent to make a basic structure, and then sikki is coiled around it. Color is imparted by boiling the Sikki laces in dyes.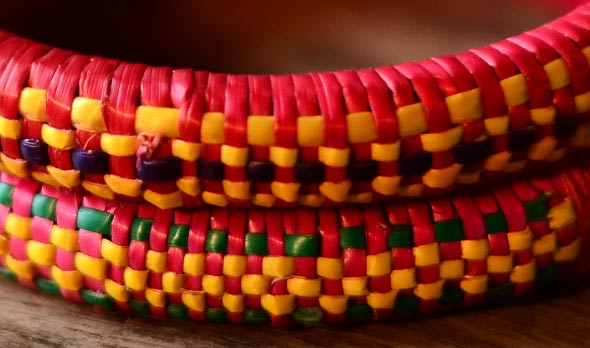 Each sikki product starts with a base frame of Munj as per the design. Then the Sikki strands with a 6-inch long needle-shaped tool called Takua are woven around it. Takua has a rounded head for a comfortable grip, which is usually made of wood or lacquer ware. To split the Sikki strands, a very fine knife called Choori or a pair of scissors called Kaichi are used.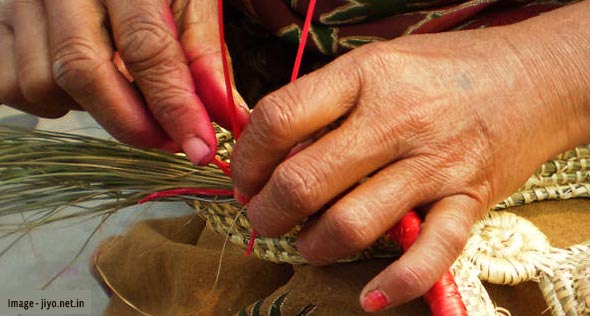 Water is used to moisten the grass, which makes it more pliable to turn it around the Munj structure. The coiling is done so finely that the Munj base is not visible at all. Hands constantly play with multicolored Sikki laces, till the artist is satisfied with the emerging pattern and its finish.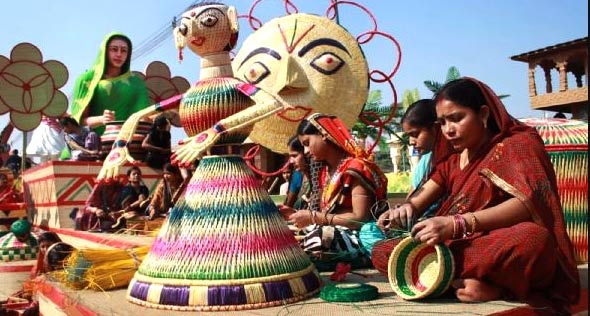 The craft of Sikki weaving has its root in traditional beliefs of Indian value system, yet it is a perfect example of sustainability in contemporary times. These grass products are lightweight, organic, biodegradable and last just as long as you would like them around.
| | |
| --- | --- |
| Craftsmen | |
| Made by | Ms. Meera Thakur |
| Village | Chandigarh and Madhubani |
| Shipping ~ | |
| Location | Shipped Internationally |
| Material | |
| Made of | Sikki Grass |
| Instruction | |
| Note | The products in this category are handmade and unique, these might differ slightly from the images shown. |
---